Work progressing well on Caboolture Hospital upgrades
The construction of new Outpatient Service Building and car park at Caboolture Hospital is well on track to be completed by the end of the year.
Caboolture Hospital Executive Director Lance Le Ray said this was a very exciting time for the community as we continued to build a better hospital and we continued to work toward a major redevelopment of the services and facilities by 2022.
"The new $7.121 million Outpatient Services Building will include 30 consultation rooms and separate adult, children's and antenatal patients waiting and appointment areas," Dr Le Ray said.
"Outpatient Services will allow the hospital to deliver around 70,000 adult, children and anti-natal appointments each year.
"It will make it a lot easier for patients needing to get to outpatient appointments with the construction of a new 55 space car park designated for specialist outpatient patients."
In addition, the construction of the new 300 space car park is progressing well.
"The new car park, which will be located at the rear of the hospital, will see the number of car parks available at the hospital rise to 1,000 car parks by the end of the year," Dr Le Ray said.
"At the same time, we will be constructing a separate all-weather emergency access for ambulances to the Caboolture Hospital Emergency Department."
The framing stage of the new Outpatient Services building is progressing well with the building on track to be completed by late 2017.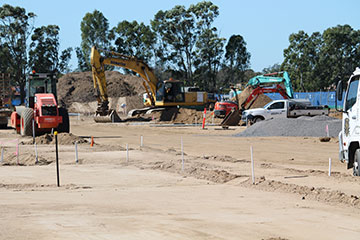 There has been plenty of work done to deliver the new hospital car park at Caboolture. Expected completion is late 2017.