NDIS opens up a new world for Robbie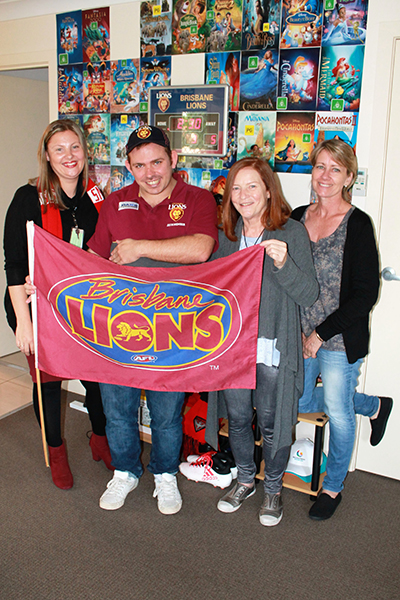 Being able to go to work, visit your friends, play sport or barrack for your favourite sporting team are some of the things that most of us can enjoy.
For Robbie Van Allen, it hasn't always been that easy, but thanks to the National Disability Insurance Scheme (NDIS) and persistence from his care team at Metro North he is now able to enjoy life to the fullest and do more of the things he loves.
Metro North Registered Nurse Eva Kinross said obtaining 24-hour support with a disability support worker was very important for Robbie and had made a big difference to the quality of his life.
"Robbie is now living a more independent, confident and happy life of his choosing," Eva said.
"His lifestyle has changed dramatically over the past year and he can now do a lot of things more regularly or participate in extra activities such as ten pin bowling."
For mum Pippa Wiles access to 24-hour support has given her a greater piece of mind that Robbie was not only enjoying his life but was a lot safer when he was out and about.
"Having someone there to encourage him and watch out for him makes it a lot safer for Robbie," Pippa said.
"He is a lot safer while living by himself, working or going out. He is also more settled and happy.
"Robbie particularly loves going to the library and saying hello to the librarians. He spreads his own bit of happiness with the people he meets."
When asked, Robbie happily tells you his favourite thing to do … to be part of the cheer squad at a Brisbane Lions' game.
And that is only one small part of Robbie's great life. He is an awesome Australian Rules Football player who has represented Queensland as a Forward Pocket.
Eva said the extra disability support helped Robbie to live independently and stay on track with his daily tasks such as cooking for himself (and the family), cleaning, eating healthy and looking after himself.
At the same time, Robbie has been working as a Kitchen Hand at the Hogs Breath Café for the past seven years to help pay the bills and live in his own apartment.
Currently, he is in training to kick even more goals as part of an Aussie Rules competition that is coordinated through the AFL Queensland's Inclusions Program.
Importantly, Robbie is able to more easily get to work, football practice on the Sunshine Coast and to the Lion's games regularly.
And finally, we asked Robbie about his great new life and he said: "Robbie is fine!"
To find out more about the NDIS please visit https://metronorth.health.qld.gov.au/national-disability-insurance-scheme-ndis or speak to a social worker at your hospital or community health facility.