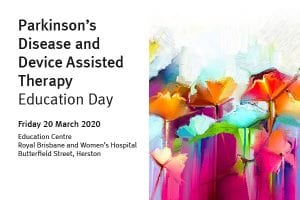 This conference is aimed at multidisciplinary clinicians with an interest in Parkinson's disease. This day will be a fantastic opportunity to learn about evidence-based interventions from a range of disciplines, including psychology, occupational therapy, nursing, physiotherapy and speech therapy. Our goal is to enable clinicians to integrate the knowledge to comprehensively care for the Parkinson's patient.
$75 per person, includes catering.
Friday the 20th of March, 2020
Time: 8:45am – 5:00pm
Venue: Education Centre, Royal Brisbane and Women's Hospital, Butterfield Street, Herston.
Contacts
Phone: 07 3646 1525