Be open and curious to be an ally to transgender people – and why we all need to do this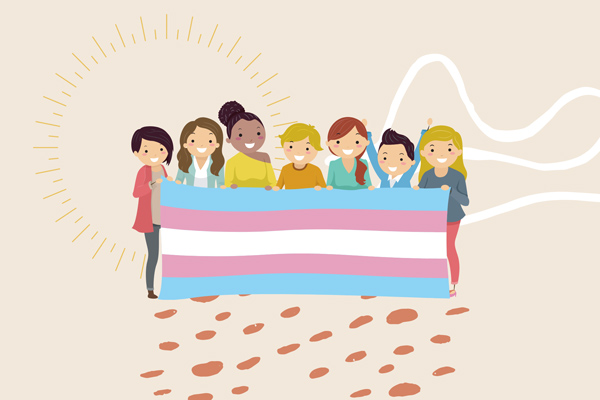 Rebecca Cooley is an Advanced Social Worker and Gender Service Coordinator at Royal Brisbane and Women's Hospital and is a passionate advocate for the LGBQTIQ+ community, in particular, those who identify as transgender
28 August marks Wear it Purple Day, a national day of change in response to young people taking their own lives as a result bullying, harassment and lack of acceptance of their sexual or gender identity.
In fact, 75 per cent of LGBTIQ+ youth are said to have experienced some form of discrimination.
Rebecca believes we have the power to change that. In line with Wear it Purple Day, she shares her tips on how we can all be an ally for transgender people.
Tip 1 – Ask yourself, what should an ally of transgender people look like?
To be an ally to transgender people you should not only respect, but also promote the importance and inclusion of people who identify as LGBTIQ+ in and out of the workplace. It's about being open, curious and just because you don't identify yourself, still actively supporting the community.
Tip 2 – Educate yourself in this space
Make a conscious effort to gain knowledge and understanding of LGBTIQ+ terminology including learning about pronouns and why they are important to transgender people. Learn the importance of using gender neutral language and try to understand why being misgendered, which is when someone is referred to with a gender that does not reflect their identity, is extremely stressful.
Tip 3 – Don't Assume
The gender binary system is built on assumptions and clichés. However, we can make the effort to understand that not everyone fits the binary mould, and going one step further, we shouldn't automatically assign someone a gender based on physical appearance.
Tip 4 – Be an advocate
No matter how small it seems to you or how hard it may be, call out behaviour that doesn't support transgender people. Maybe your workplace doesn't have non-gender toilets – push the envelope and ask the 'why' question for your colleagues who need you on their team.
Tip 5 – Communication is key
Be open and curious in your learning and have discussions with transgender people. Ask their preferred name and their pronouns and be proactive in making sure you get it right.
Tip 6 – Create a Safe Space
 There's plenty you can do at work to create a safe and supportive environment for transgender people. Make 'transgender ally' stickers and badges, start a LGBTIQ+ network and support awareness days for these causes.
Not everyone in the world fits the binary mould anymore – you'll be surprised what you learn when you show an interest in growing your transgender knowledge!