Bootcamp for your mind: six tips for improved mental health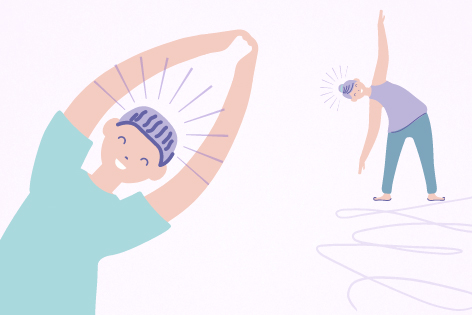 Kelli Copelin is an Advanced Recovery Support Worker at The Prince Charles Hospital.
Gyms are reopening across the state as COVID-19 restrictions continue to ease, but in the rush to get our bodies fit and well, have we considered the health and wellbeing of our minds?
Good mental health can help you cope with stress, increase your happiness and motivate you to truly get the most out of every day. It's a big job! But the good news is you don't need a gruelling routine to keep yourself on track.
Here are six easy tips you can implement to give your mental health a boost:
1. Jump into life
Set a goal or task that you want to achieve for the day – it can be something small like making your bed, going for a walk or calling a friend. Doing things that matter to you gives a sense of purpose to your day, and achieving them can give you confidence, energy and motivation.
2. Daily digital detox
Instead of scrolling on your phone or watching TV to unwind, try writing out your thoughts, feelings and emotions at the end of each day. You could also practice simple breathing exercises, listening to music or reading a book. Whatever you decide, set aside time each day for a daily digital detox!
3. Create connections
Restrictions have eased in the last few weeks so hopefully you've been able to see more of your friends and family! It's easy to get stuck in our day-to-day routines with work and other commitments, be sure to allocate time to meet up or call a friend to socialise. Spending meaningful time with the people we love can give you energy, a sense of belonging and make you feel supported. Try not to simply send a text message – pick up the phone for a call or meet up for a walk to allow the conversation to flow more freely.
4. Eat well
What you put in your mouth matters. Try to eat from a variety of food groups every day to maintain a balanced, healthy diet. Everyone's different, so do what's best for you and makes you feel good.
5. Stay active
Exercise can act as a stress reliever. It boosts endorphins and can be a healthy distraction from day-to-day worries. Find a way to keep active that suits your lifestyle. It might be some yoga in front of the TV, kicking the ball around with friends or going for a run. Whatever it is, start small, make it enjoyable and try to find a routine you can stick to.
6. Get enough sleep
Don't underestimate the health benefits of a good night's sleep! Try to get at least 7 hours of sleep each night. This prepares you for the day ahead, improves your mood and concentration levels, and increases resilience. Blue light from your TV screen or phone can make it harder for you to fall asleep. Try a book or calming playlist to help you get some more shut-eye.
Give these tips a go over the next week and see if you notice any changes to your mental health.
Remember, if you're struggling, always ask yourself "what am I doing well" rather than focusing on "what I've done wrong" – catch your negative thoughts and turn them around.