Three tips for cooking nutritiously with pantry staples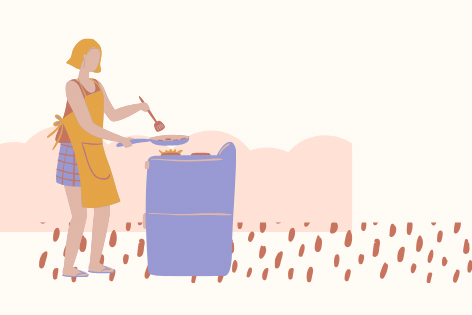 Hilary Powlesland is a Senior Dietitian at the Royal Brisbane and Women's Hospital
Cooking nutritious food can often be perceived as being expensive, time intensive, and for some, too much effort.
It doesn't (and shouldn't) have to be this way!
Cooking food packed with nutrients can be super simple, and often the key to healthy cooking is already in your kitchen.
Using up what's in the pantry or keeping a few versatile long-life ingredients on hand is a great way to create cost effective and nutritious meals all year round.
Here are my three tips to cooking quick, cheap and nutritious meals using pantry staples:
1. Learn to love legumes
Tinned legumes can be added to almost any meal to bulk it up, replace meat or quickly add more nutrients. They're a cheap source of protein and fibre and are a fantastic way to make family meals go further.
Look for: Black beans, kidney beans, chickpeas, lentils, and split peas
Add into: casserole, soup, salad, curry, Bolognese and Mexican chili, to name a few!
Make into: roasted chickpea bites, hummus, burger patties, falafel
2. Use frozen vegetables
Fresh veg can get more expensive during seasonal changes. Frozen veg is just as good for you—don't feel pressured to buy fresh! Because it has a longer shelf life, you can use it as you need it so you're not wasting your money or produce.
3. Multi-use multigrain wraps:
Keep these in the pantry (or wrapped airtight in the freezer) for one of the most versatile staples for multiple meal options!
Make into:
Wraps: a quick lunch with whatever you have on hand—a combination of veggies, canned legumes, tuna, cheese, lean meats or veggie patties work well
Healthier tortilla chips: spray with canned vegetable oil and oven-bake. Pair with vegetable sticks and tzatziki, homemade tomato salsa, guacamole or hummus. For veggie sticks you could use carrot, snow peas, capsicum, cherry tomatoes, green beans, cucumber, celery, radish, zucchini, cauliflower or broccoli florets.
Pizza: use as a healthier base alternative.