Step up to the plate! Five tips for better lunches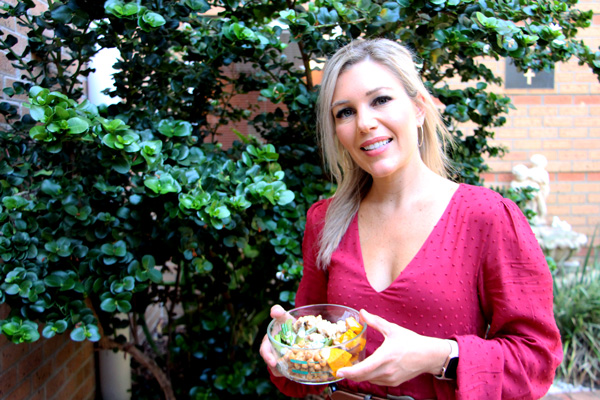 Stacey O'Donnell is a dietitian at Caboolture Hospital. She has more than 10 years' experience working with eating disorders as well as children's nutrition.
New Year, new you? Many of us wake up post-Christmas binge and decide to kick-start a diet and new health regime. But if you aim to make enormous changes quickly, even the best-laid plans can be challenging to execute, and we can easily lose interest.
Caboolture Hospital dietitian Stacey O'Donnell says the best way to work towards a healthier diet is to take off the pressure to eat 'perfectly' and focus on incremental, healthier changes.
"One easy way to improve your diet is to focus on improving the nutrition of one meal at a time, for example preparing tasty, healthy lunches for work," she said.
"Not only will swapping bought lunches for homemade meals make a significant difference to your health, but it also can work out to be cheaper!"
Here are five easy tips from Stacey to get you started with your lunchbox prep ahead of 2021.
1 – Identify your barriers
It's good to know why you aren't eating healthy to start with. We all know good foods from bad foods, so ask yourself "what's stopping me from eating well?" It could be time, especially for those with families or doing shift work. Alternatively, it could be that you're unsure how to prepare new and different meals, or it could be a low motivation to change your eating habits. It's different for everyone, but a great first step is to identify what your barriers are and work towards making healthier choices that work for you.
2 – Small steps
Don't put too much pressure on yourself to jump into a brand-new diet straight after Christmas. Ease into healthier habits by focussing on improving individual meals that contain something from each of the five food groups. Most of us are at work for seven to nine hours, so packing healthy food will keep you feeling good and keep your brain functioning (and stop those little trips to the fridge every now and then). You could even try limiting your favourite snack to weekends only. Small improvements lead to better, smarter decisions in the future.
3 – Preparation is key
Food prep might sound like a fad, but it does keep you on track with your lunches – and it's easier on the wallet too! If you spend a little bit of time planning what meals you'd like to eat, shopping for ingredients and preparing food in advance, you're setting yourself up for a week of healthy eating. It might be hard for the first few weeks as you adjust to a new routine, but soon you'll enjoy not having to think about your lunches for the rest of the week, while knowing your meals are nutritionally sound.
4 – Focus on the food groups
Make sure you've got a good balance of the right food groups on your plate. Pick a protein, so maybe chicken, fish or chickpeas, and build the rest of your meal around that. After that, add a wholemeal carbohydrate and then ensure 50% of your plate is full of vegetables or a salad, and that's it! You might like to try adding some healthy fats to top it off, such as sunflower seeds, avocado or feta. If you're thinking about changing what you eat for lunch, focus on getting good, wholesome food on your plate and make sure it tastes good. No one likes a boring lunch!
5 – Enjoy food!
Your lunch breaks are called a break for a reason, so step away from your work area into a new space and try to slowly enjoy your food – don't just scoff it down as quickly as possible while working away at your desk! If you like to socialise, pick a time that suits some colleagues to join you, otherwise bring a book or listen to some music as you take a moment to truly enjoy your delicious and nutritious lunch.