Wellbeing is more than just happiness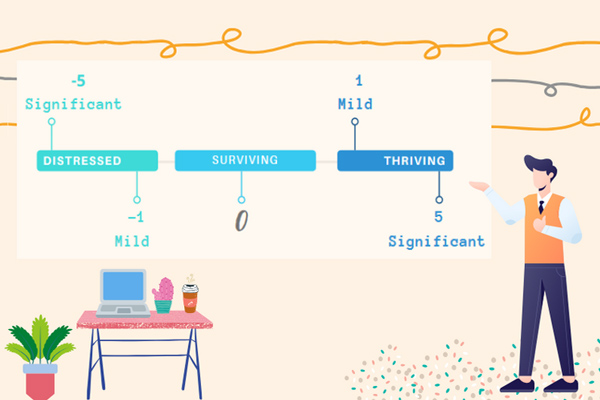 Upon meeting Drew Craker, the first thing you'll notice is his warmth and humour, the second, is his passion and knowledge for wellbeing.
As the Metro North Workforce Culture and Engagement Staff Psychologist Drew has been around Metro North for a lifetime and is valued by so many past and present Metro North staff. Drew's background is in staff psychology at the Royal Brisbane and Women's Hospital.
"Wellbeing is more than just happiness," he says.
"I encourage people to think of their wellbeing in terms of the four domains of wellbeing – emotional, physical, financial and social.
"Looking at wellbeing as a whole creates an overall wholebeing."
Through his career he has been able to recognise a gap and develop his own wellbeing scale through which people can determine where they sit on the scale and strategies for how they can move from distressed or surviving to thriving.
Drew has made a few adjustments to his scale so that everyone can use it.
The wellbeing scale was created to allow a simple self-scoring scale of where one sits in terms of the four domains of wellbeing. Simply, it provides a starting point to improves a person's overall wholebeing.
"The first step is to pinpoint where you currently sit on the scale for each domain. Consider asking yourself the following questions," says Drew.
"Over the last week what is the highest and lowest rating you would have given yourself? And how does this compare to how you rate yourself at present?
"Next, identify what you need or what would help you to increase your current rating by one point. To thrive in all four domains, different interventions will need to be made, but the intention should remain the same."
Drew suggests if you've identified yourself as distressed, you should actively seek support. If you've rated yourself at surviving, you need to look for opportunity to grow. Thriving? Look to maintain your gains.
Lastly, remember to start from where you truly are on the scale and that the goal is to move to the right of where you currently are.
Most importantly, where you sit on the scale might fluctuate daily and that's ok.