When life's no oil painting – a look at art therapy with Peta Mitchell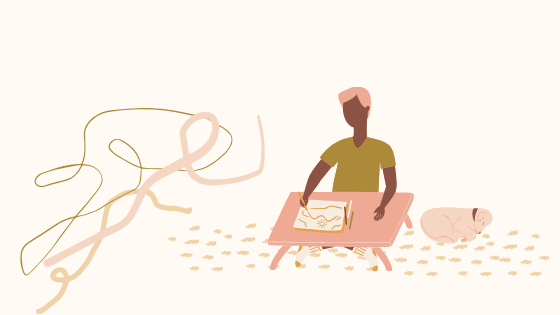 Putting paintbrush to paper has become a popular past time of late, as thousands of Australians pass the time in their homes.
But budding Picassos and Pollocks can take more from this experience than a new addition to the fridge, as The Prince Charles Hospital Artist in Residence Peta Mitchell tells us.
"While art therapy isn't the only solution to sudden income loss or feelings of isolation as you miss your loved ones, there is proof that creating something can make us feel better," she says.
Peta, who took up art 20 years ago in her personal life before studying it at university, predominantly works with adult mental health patients using art as a form of therapy.
Her patients are able to use the process of creating something to express their mood and to put feelings into a visual format.
Research into art therapy has demonstrated profound benefits including decreasing depression and anxiety – benefits Peta sees in her patients every day.
But she believes all of us can take something from art, no matter our situation or natural artistic flair.
"There are so many outlets for art, and often art is not about the end result – but it is the process of creating something," she says.
"For example, I can scribble on a page and in doing that I am expending energy and my frustration. I won't hang it on my wall but it has helped me express my feelings.
"You can go into the zone and lose yourself in art, so it can be calming – but it can also be very social and can bring people together."
So, if the art wave has yet to hit you yet, what are Peta's tips for getting started?
"Just have fun with it," she says.
"As kids we love making things and as we get older we become fixated on the end product and worry about how good it will be, but that is irrelevant – the magic is in the process of creating."