Our history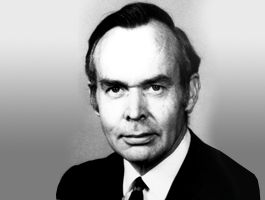 Named after Dr Kenneth Grant Jamieson, The Jamieson Trauma Institute will continue the legacy of a legend.
Dr Ken Jamieson is regarded as one of Australia's best neurosurgeons.  His numerous and valuable contributions to neurosurgery included the treatment of aneurysms, pineal tumours, and studies of head injury related to road trauma.  Dr Jamieson developed innovative surgical techniques, and was a passionate advocate for trauma prevention through research, innovation of systems, education of experts, and advocacy for the injured.
Dr Jamieson was born in Melbourne on 2 January 1925 to Aubrey Jamieson, a machinery merchant, and Christine Jamieson (nee Grant).
Ken's exceptional career was foreshadowed in his adolescence.  At age 13 he won a scholarship to Scotch College secondary school where he also rowed.  He later secured further scholarships to attend the University of Melbourne.  There he studied medicine, winning scholarships each year.
After graduating in 1948 he joined The Royal Melbourne Hospital.  There he developed a passion for neurosurgery.  Dr Jamieson also worked as a researcher at the Baker Medical Research Institute and taught surgery and pathology at the University of Melbourne from 1953 to 1954.
In 1949, Ken Jamieson married Margaret MacKinlay, having been soulmates since their teen years.
At the Alfred Hospital, he worked as assistant neurosurgeon with Mr Reginald Hooper from 1952 to 1953 and with Mr Hugh Trumble from 1954 to 1955.
In 1956, Dr Jamieson was appointed as Queensland's first neurosurgeon with joint posts at the Brisbane General and Brisbane Children's Hospitals (later named Royal Brisbane Hospital and Royal Children's Hospital from 1966), the South Brisbane Hospital (later named Princess Alexandra Hospital from 1959) and Lecturer in the Faculty of Medicine, University of Queensland.
By 1962 Ken had established the internationally recognized Department of Neurology and Neurosurgery at the then Brisbane General Hospital (later RBH).  He pioneered and championed the concept of collaborative care between clinical teams, including nurses, neurologists, radiologists and anaesthetists.  Dr Jamieson also made significant contributions to the Department of Anaesthesia at RBH.
Affectionately known as the "Patron Saint of Ambulance Officers", Dr Jamieson was committed to road trauma research and the training of ambulance officers.
In 1965, Ken's book, "A First Notebook of Head Injury", was published by Jacaranda Press in Brisbane.   A masterpiece on the management of head injury, this text would be referenced by clinicians for decades to come.  His contributions to the field of head injuries due to road trauma would go on to shape his legacy.
In the early 1970s, Dr Jamieson's research and advocacy contributed to legislation regulating use of seat belts, crash helmets, and breathalyser testing, and he played a vital role in the Royal Australasian College of Surgeons' establishment of its National Road Trauma Committee.
Dr Jamieson died suddenly and unexpectedly at home on 28 January 1976 from ischaemic heart disease.   He was survived by his wife, son and five daughters.
Dr Jamieson's biography was written in conjunction with his family. JTI in honoured to host his story.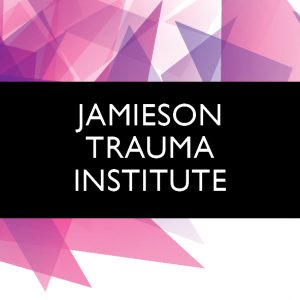 Contact us
Jamieson Trauma Institute
Located: Royal Brisbane and Women's Hospital
HERSTON QLD 4029