Queensland Trauma Insights
June 2021
Quad bike related injury hospitalisations in Queensland public acute hospitals between 2016 and 2020
Quad bike is a major cause of accidental deaths and serious injury on Australian farms. In Australia since 2011 there have been a 161 recorded quad bike deaths, including 24 children under 16 years of age (Safe Work Australia – current as at 18 March 2021)*. About 50% of these fatalities were workers and 11% were children aged 11 years or under. Rollover due to losing control of a quad bike was the leading cause of quad bike fatalities (Safe Work Australia).
November 2020
Injury-related hospitalisations for those 15-24 years of age: Queensland from 2016 to 2019
Injury has a large impact on young people, being the leading cause of death and hospitalization among people aged 12-24 years. Patterns of injury in young people are different to other age groups, with different injury influences and causes, as they gain greater independence in activities and decision making. This following snapshot shows epidemiological data for the most recent 3.5 years of hospitalization data in Queensland.
Injury Presentations to QISU Collecting Emergency Departments for those 15-24 years of age: Queensland from 2016 to 2019
September 2020
Penetrating injury related hospitalisations in Queensland 2015/16 to 2018/19
Penetrating injury occurs when an object such as a knife or bullet crushes and tears the tissues that it traverses. There has been limited data reported on penetrating injury related hospitalisations in Queensland over recent years, so, the aim of this snapshot report is to provide current estimates of the extent and patterns of penetrating injury hospitalisations in the Queensland context.
March 2020
Low Speed Vehicle Run Over related injury hospitalisations: Queensland from 2015/16 to 2018/19
Injuries from low speed vehicle runover (LSVRO) events often occur during childhood, however these types of injuries can happen at any age, with the elderly becoming a more prominent age group. It has been 10 years since an in-depth analysis of these injuries was conducted in Queensland in the 0 – 15 year old age group.
The following snapshot shows contemporaneous epidemiological trends for the most recent 4 financial years of hospitalisation data in Queensland.
December 2019
Let's talk Safe Work: A look at work-related injury in Queensland
The work-related hospitalisation rate in Queensland has been estimated at approximately 800 per 100,000 employees with this rate remaining steady in Queensland since the early 2000s, unlike other jurisdictions where the trend has decreased slightly. Injuries account for around one-third of these hospitalisations.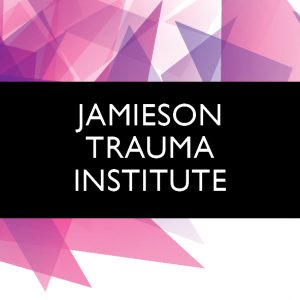 Contact us
Jamieson Trauma Institute
Located: Royal Brisbane and Women's Hospital
HERSTON QLD 4029