Queensland Digital Health Research Group
Digital health is rapidly revolutionising healthcare.  By 2026 Queensland Health (QH) will be well progressed in its ambitious program of digital transformation. The data stored in these applications can be leveraged as analytics. These can be replayed back to clinicians and health system managers in real time to improve care and digital workflows. Aggregated big data will allow innovation and new models of care such as precision medicine and machine learning (Figure 1).
More information
If you would like further information about the Queensland Digital Health Research Group, please contact QDHARG@uq.edu.au
Current methods of research and education will be challenged as we move away from the traditional "break-fix" model of healthcare to a "predict-prevent" population based digital model, centred around the person, rather than the illness.  Digital transformation enables this shift in focus but requires new skills and research methods in our teams.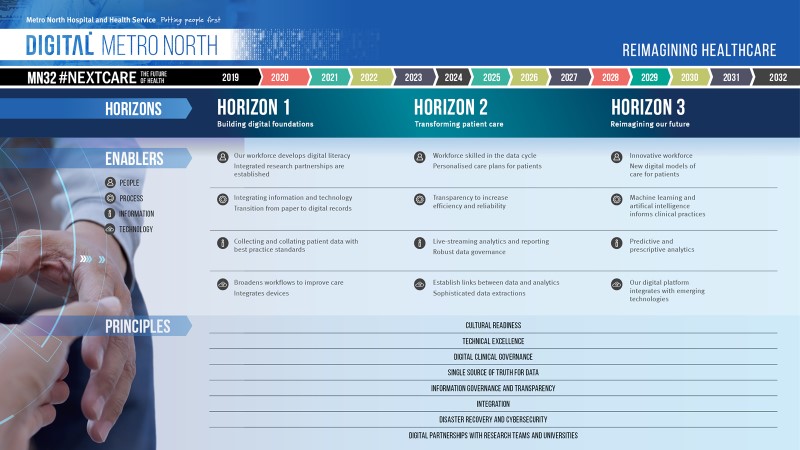 To address these significant challenges, the Queensland Digital Health Research Group (QDHRG) has been instigated with support from University of Queensland, Metro North Hospital and Health Service and Clinical Excellence Queensland, Queensland Health. This capacity building venture will represent a flagship collaboration to deliver research and a central educational platform to support the digital transformation of healthcare, its professions and the industry more broadly.
The QDHRG is a collaborative group using digital health solutions to improve the quality of care, the efficiency of care and the experience for our consumers, staff and their families. This is achieved through several areas of work:
Research
With approximately $5 million in grants currently underway QDHRG has a world class digital health program across the academic groups involved.  Areas of focus include digital health maturity and evaluation of benefits, data and analytics including artificial intelligence, and innovation including the internet of medical objects.
Capability
There is an increasing requirement to develop digital literacy within our workforce through training programs that target new, large-scale technologies such as electronic medical records.  To effectively harness the value of our digital transformation, the health system's strategic direction for clinical education must be responsive and adjust its curriculum to meet the evolving needs of our interconnected, person-centred health system.  QDHRG is partnering with the Queensland Digital Academy to develop undergraduate and post-graduate curricula in digital health and clinical informatics in collaboration with the Australian Institute of Digital Health.   QDHRG also currently has six PhD students and provides academic hosting of multiple regular seminars and teaching sessions.
Industry and Community Engagement
QDHRG partners with healthcare providers and industry to develop solutions and offers expertise on establishing digital clinical governance and translate new technologies into clinical workflows while enabling change and workforce upskilling and support.
QDHRG facilitates the collaboration of clinical, technical, informatics, industry and academic experts to develop a research, educational and innovation capability and expertise to meet the requirements of the healthcare industry of the future.