Who makes sense of our genes?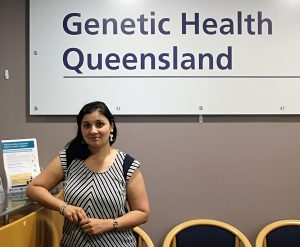 Human beings have hundreds of thousands of genes, and while we all share the same set, our individual DNA sequences differ slightly. These are the differences that determine things like eye or hair colour, but also the differences that make us susceptible to genetic conditions.
A genetic counsellor plays a crucial role when it comes to interpreting gene testing, and helping those who are at-risk to understand their unique genetic, biological and environmental risk factors.
We spoke with Vrunda Sane, Genetic Counsellor at Genetic Health Queensland at Royal Brisbane and Women's Hospital, about her journey into the profession.
What made you interested in genetics?
As a graduate in biology, genetics was always a fascinating subject!
I completed my undergraduate degree in microbiology wherein genetics was studied mainly as a theory subject, and laboratory tests conducted were very limited at the time.  Then, working as a biology teacher through the years I realised that an understanding of genetics is essential on multiple levels.
How did you come to be a genetic counsellor?
I worked as a teacher and a tutor for many years and I felt like I was "communicating science" to adult students already. When I found out about the course, it was the perfect blend of science and people for me. Genetic counsellors typically have a bachelor's degree in medical, biological or social science, and then go on to complete Master's degrees in genetic counselling. I completed my Master's degree with Honours from the Griffith university locally in Brisbane.
What are the highlights of the job?
There are many. I enjoy the day-to-day challenge of staying on top of things!
One highlight is the ability to connect with patients and support them through an often difficult and confusing process.
Also, genetic counselling provides me with the challenge of staying current in the ever-evolving world of genetics. I have been working at Genetic Health Queensland for the last four years, and so many guidelines and protocols have evolved in that short space of time.
What is the hardest aspect of your job?
One challenge is to remain patient centred at all times. It is very easy to get caught up in all the science jargon, and it is important being truly "present" and balance the information aspect with the psychosocial aspect and think what the patient really needs.
Another challenge of being a genetic counsellor is to pay attention to our own functioning, monitor our effectiveness, and to practice ongoing self-care.