The Safe Space at TPCH
Supporting people to recover from crisis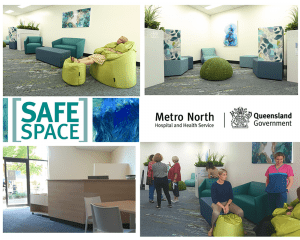 The Prince Charles Hospital (TPCH) is one of the first hospitals in Queensland to pilot a crisis support space – a "safe space" – aimed at improving our response to people experiencing mental health crises.
Opened in January 2021, the new 'Safe Space' provides a dedicated, non-clinical, home-like area for people who are currently experiencing, or are at risk of developing, a mental health crisis, to allow timely intervention and compassionate care.
TPCH's Emergency Department (ED) currently sees many individuals who present in a mentally vulnerable state, seeking care and support. Being able to assist these individuals in an alternative location, with both peer and clinical support, means they can receive help earlier and subsequently prevent the risk of their situation becoming critical.
Location
The Safe Space is in close proximity to ED, next to the Common Good Café. It is only accessible via swipe card, so people need to be accompanied by a staff member.
Operating hours
The service operates outside of normal business hours from 2:00pm – 8.00pm, Monday to Thursday and 5:00pm – 8:00pm Friday.
How is the Safe Space staffed?
The Safe Space is staffed with two peer workers and one senior mental health clinician.
Peer workers are trained support workers who can use their own lived experience of mental health challenges and recovery to support people in their own recovery journey. Working alongside the mental health clinician, peer workers are central to the Safe Space model for their ability to connect with people, develop rapport, and create a safe environment for consumers to share what they are experiencing.
Using their unique lenses of lived and professional experience, the team collaborate with consumers and carers to find their own path to wellbeing.
Contact us
Safe Space team
Location: The Prince Charles Hospital
Phone: Via MH CALL – 1300 MHCALL (1300 64 2255)
Open:
Mon to Thurs 2:00pm - 8:00pm
Friday 5:00pm - 8:00pm