GRAND ROUND SERIES
The Queensland Digital Health Grand Rounds series is designed to bring clinicians, academics and researchers together to hear up-and -coming innovations and applications of informatics in healthcare.  The sessions inform and update participants on the latest developments in research and how health informatics is translating to inform and directly impact clinical care and patient outcomes.
Upcoming presentation
 The Digital Health Grand Rounds series will recommence in February 2022.
Presenting opportunities
If you are interested in presenting at an upcoming Queensland Digital Health Grand Rounds please contact Queensland Digital Academy via email at QDA@health.qld.gov.au
More information
If you would like further information about the Queensland Digital Health Grand Rounds please contact QDA@health.qld.gov.au.
What's needed to mainstream AI into clinical practice?
This presentation will consider the barriers and enablers to mainstreaming AI into clinical practice and detail learnings of the Metro South Clinical AI Working Group in developing and evaluating AI applications in hospital settings.
Presented by Presented by Professor Ian Scott MBBS, FRACP, MHA, MEd, Director of Internal Medicine and Clinical Epidemiology – Princess Alexandra Hospital and Professor of Medicine – University of Queensland.
Real-time digital disruption of healthcare in a new digital hospital
Digital transformation of healthcare rarely unfolds as predicted.  Insights will be shared from an observational study at STARS hospital soon after its Go-Live in 2021. Presented by Oliver Canfell, Research Fellow – Digital Health, Accredited Practising Dietitian
Interim Insights from a Longitudinal Study of Digital Transformation
This presentation will provide insights from the first two stages of a three-stage longitudinal study of a digital hospital transformation. Presented by Professor Andrew Burton-Jones, Business Information Systems, University of Queensland.
Quantitative Clinical Governance: Improving Patient Outcomes through Routine Monitoring of Clinical Performance
This presentation describes the Clinical Intelligence approach taken at St Andrew's War Memorial Hospital to develop and implement a clinician-lead program addressing these recommendations. Presented by Dr Ian Smith, Senior Advisor, Physical Sciences and Clinical Outcomes Analysis, St Andrews.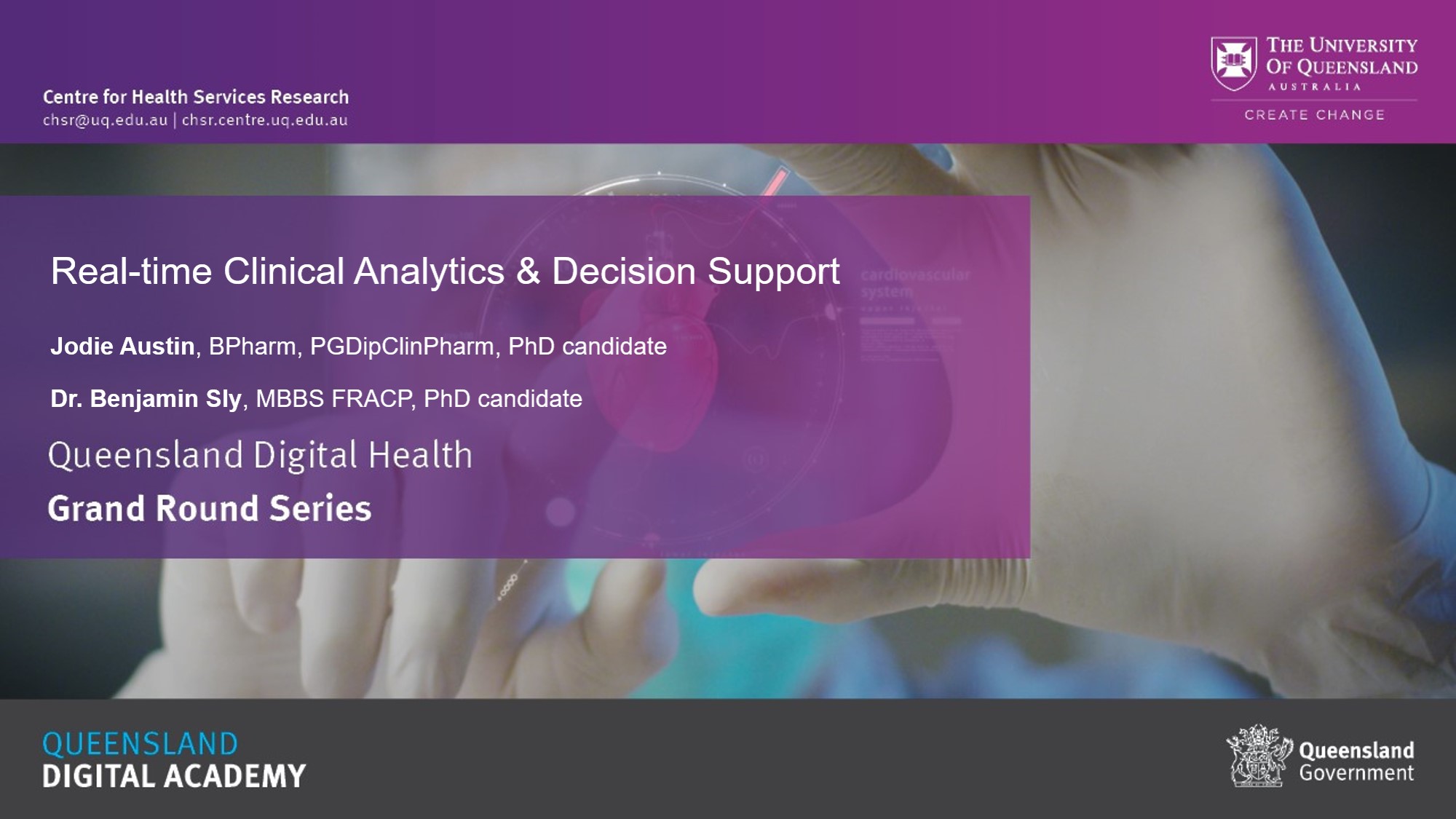 Real-time Clinical Analytics & Decision Support
Five years on since the implementation of Queensland Health's first electronic medication management system (EMMS), 14 facilities are now managing medications via a digital platform. The development and deployment of real-time analytics products surrounding high-risk medications (insulin and opioids) shall be presented. Presented by Jodie Austin, BPharm, PGDipClinPharm, PhD candidate UQ and Dr Benjamin Sly, MBBS, FRACP, PhD candidate UQ.
Digital health literacy – patient, consumer, public and clinician
This presentation explores the current and future workforce needs in digital health and proposes a pathway for improving digital health literacy to deliver better health outcomes. Presented by Associate Professor Clair Sullivan for the Centre for Health Services Research, The University of Queensland and Adjunct Professor, Faculty of Health, Queensland University of Technology.
Assessing digital maturity in healthcare
Digital maturity assessments allow healthcare organisations to understand their progress towards digital transformation. For the first time, the HIMSS methodology is being applied across Queensland simultaneously with other jurisdictions around the world. This presentation outlines findings from the literature, describes the methodology, presents interim results, and sets out next steps. Presented by Rhona Duncan, BIT (InfSys) and Dr Lee Woods, BN (Hons), PhD, FAIDH.
Embarking on the data science journey – key considerations and questions
There has been a surge of interest for Artificial Intelligence (AI) technologies to deliver solutions to current healthcare problems, such as disease diagnostics, resource planning and dosage error reduction. This presentation will outline the key questions to consider and the aims to provide insights to teams looking to start AI projects. Presented by Rudolf Schnetler. Clinical Data Scientist, Townsville University Hospital.
The digital hospital journey – think big, think different
As ieMR is implemented across Queensland, healthcare is evolving with more digital systems available than ever before. Hear from our panel of ieMR experts that are transforming care by harnessing this information.
Presented by Associate Professor Clair Sullivan, Centre for Health Services, UQ; Dr Tanya Kelly, Clinical Director Digital Transformation, SCHHS; Dr Adam Brand, Clinical Director Digital Transformation, GCHHS; and Dr Andrew Blanch, Chief Medical Information Officer CHQ.
The Queensland Digital Health Consumer Charter
The Queensland Digital Health Consumer Charter reflects the priorities and digital health needs of health consumers, carers and the community. The presentation will explore the development of the Charter, principles of the Charter and the importance it plays to ensure consumers and carers understand their healthcare.
Presented by Anne Curtis, Engagement Consultant, Health Consumers Queensland.
Data Visualisation: What COVID-19 has taught us.
From flattening the curve to logarithmic trajectories of cases and deaths, data visualisation in COVID-19 demonstrates its power.
Presented by Dr. Ronald Huynh, MD GradDipDataSci, GradCertClinicalRedesign BSc DipMus CHIA, Emergency Senior House Officer and Digital Engagement Officer, Gold Coast Health; and Amanda Makulec, Senior Data Visualisation Lead, Excella, BA in Zoology and Sociology, Miami University and MPH, Boston University School of Public Health.
What makes digital transformation successful?
Did you know transformation friction is the main barrier to a successful digital transformation? This presentation will uncover the barriers of digital health implementations from the perspective of boards, Chief Experience Officer and clinical leads and explore the concept of transformation friction and more importantly, how it can be reduced.
Presented by Natalie Smith – BSc, MHROD, MBusRes, PhD Candidate.
What to know in using machine learning algorithms
Did you know machine learning algorithms can be used to screen and diagnose disease and predict therapeutic responses? This presentation will explore the growing importance of machine learning algorithms and introduce a checklist to assist in deciding if an algorithm is ready for use in routine practice.
Presented by Professor Ian Scott MBBS, FRACP, MHA, MEd, Director of Internal Medicine and Clinical Epidemiology – Princess Alexandra Hospital and Professor of Medicine – University of Queensland.
Building digitally-integrated networked biobank infrastructure in Queensland: Opportunities and Challenges for translational research.
Biobanking is fundamental to research that aims to understand, prevent, diagnose and treat disease. Design and development of systems for a digitally-integrated networked biobank serves to enhance visibility and access by investigators to quality biospecimens linked to health data.
Presented by Professor Janet Davies BSc, PhD, GAICD, Assistant Director of Research, Metro North Hospital and Health Service.
Information challenges in aged care: Supporting data standardisation and exchange?
Challenges arise when addressing the functional and psychosocial needs in aged care and vulnerable populations. Within these populations what impact does data standardisation have? How can the interRAI assessment instruments be used to measure and improve quality of life? How can a valuation system be useful for members of vulnerable populations?
Presented by Professor Len Gray, Director of UQ Centre for Health Services Research.
Digital Transformation – An Analysis of the Early Impacts of Health Information Systems
With more hospitals journeying towards digital transformation, are there lessons that can be learnt about the early impacts of health information systems? What are the foundations to successful digital transformation? How do hospitals and health services continue to undergo improvement?
Presented by Rebekah Eden – Lecturer of Enterprise Systems, School of Information Systems, Queensland University of Technology.
Genomics to transform kidney health: challenges, progress and opportunities
Can the application of genomics in healthcare help us to create new possibilities to understand disease and improve healthcare? For kidney disease, this reflects both new and old challenges framed within an opportunity to improve the lives of patients and families whilst empowering clinicians with new tools and skills.
Presented by A/Prof Andrew Mallett MBBS MMed PhD CF AFRACMA FASN FRACP.
Why can't we use Google Translate in health?
In a busy world, how can clinicians create innovative digital solutions? How do we allow for technology innovation in contemporary healthcare? Would Google Translate provide an opportunity to augment existing services and technologies to improve patient care?
Presented by Travis Pearson – Director Nuclear Medicine Technology Royal Brisbane and Women's Hospital and Kristen Hopkins – Patient Services Team, Metro North Hospital and Health Service.
Do we really need that mandatory data field?
As we move towards real time reporting how do we ensure our busy clinicians are documenting the right information at the right time and in the right place? Are mandatory data fields the key?
Presented by Dr Marianne Kirrane, Staff Specialist in Intensive Care and Medical Lead, Digital Metro North, MNHHS.
Download the presentation