Associate Professor Anthony Lynham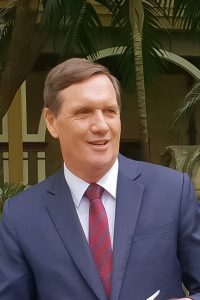 Associate Professor Anthony Lynham is a maxillofacial surgeon with a longstanding career in the specific area of maxillofacial trauma. Most recently in November 2020, he was appointed as a Clinical Director of the Jamieson Trauma Institute based out of the Royal Brisbane and Women's Hospital (RBWH). Anthony's contribution to the RBWH began as a surgeon where he became an inaugural member of the RBWH Trauma Service and now continues in his contribution to trauma with research at JTI.
Following the completion of his fellowship in orbital surgery in Switzerland, A/Prof Lynham returned to Australia where he developed a strong research interest in the prevention of trauma, leading him to stand for public office. In 2014, Anthony was elected as the Member for the Electorate of Stafford. From 2015 to 2020 A/Prof Lynham served as a Senior Minister in the Queensland Government, before returning to his roots and returning to full time medical practice in late 2020.
A/Prof Lynham continues shine a spotlight on the importance of injury prevention and works to drive the engagement of both government and the broader community in prevention initiatives. He has held many college board positions during his career and currently hold positions at both the University of Queensland and the Queensland University of Technology.
A/Prof Lynham is a passionate, patient centred clinician, with a prevention-centred focus in his research, and is excited to see what the future holds for JTI.