Medical careers at Redcliffe Hospital
Join the team– build a career with Metro North Heath
Why Redcliffe Hospital?
Join a medical workforce that will provide you with broad clinical exposure and hands-on experience. Redcliffe Hospital is recognised as a training facility for multiple specialties. We are an accredited 240-bed training facility that provides opportunities for generalist or specialist career pathways. Build your clinical skills and assist your professional advancement through participation in a range of clinical and hands-on experiences.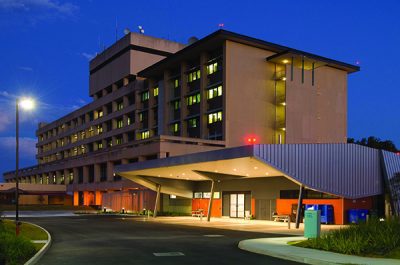 Redcliffe is a growing seaside city and home to approximately 60,000 people. The busy provincial hospital is just 35 minutes north of Brisbane and only a ten-minute walk from the seafront.
The hospital provides strong theoretical and practical support while allowing sufficient clinical autonomy for the development of clinical competency and judgement skills.
Redcliffe Hospital offers numerous educational activities including journal clubs, Grand Rounds, unit tutorials/meetings, and RMO lunchtime teaching with plenty of hands-on practical sessions. The hospital has a well-equipped education centre, Skills Development Centre and Junior Doctor's Common Room.
Education and training
Weekly medical education programs for interns, junior doctors, registrars and consultants linked to your continued professional development
Skills Development Centre on site.
A strong educational and training ethos.
Weekly intern only education including practical skills sessions (protected time for interns).
Perioperative Introductory Program provided to all interns during surgical rotations.
Weekly Junior Doctor Professional Development Program (protected time for interns).
Weekly Grand Rounds (accredited with RACGP and ACEM for CPD points).
Salary & Entitlements
Doctors work 76 hours per fortnight and on-call shifts but a minimum of 10 hours off between shifts.
The award includes annual, professional development and exam leave.
Metro North Health also offers generous salary packing options.
Superannuation paid up to 12.75%.