My Health Now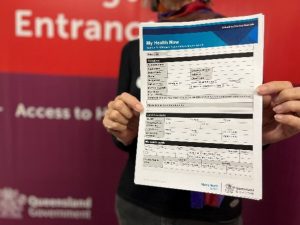 My Health Now is an easy-to-use form that helps you have your important health information in your hands when you need it most.
Based on an idea by Jurina (pictured below) and developed with the Caring Together Consumer Network, My Health Now takes the stress out of remembering your health history and key contacts when you're unwell.
It has the basic information you will be asked for in an Emergency Department or outpatient appointment, as well as other things you may want your health care team to know.
How to use My Health Now:
Fill it in with your information.
Add what is important to you.
Save your form to your phone or computer.
Print copies for you and your loved ones.
Keep copies where you can get them in a hurry if you need e.g. handbag, car, fridge.
Give to ambulance staff, hospital staff, or your care team when you need to.
Frequently asked questions