Vision and values
We are the biggest and most diverse Hospital and Health Service in Queensland, delivering the best care by the brightest health care professionals.
Our diversity is unique. Two of our five hospitals – Royal Brisbane and Women's Hospital (RBWH) and The Prince Charles Hospital (TPCH) – are tertiary/quaternary referral hospitals, providing state-wide super specialty services, such as heart and lung transplantation and burns treatment. Redcliffe and Caboolture are major secondary hospitals, and Kilcoy is a regional community hospital.
Our vision
Excellent healthcare, working together, strong and healthy communities.
Our purpose
Together with our community and partners, deliver services informed by research and innovation to improve the health outcomes of our community.
Our values
Respect

Teamwork

Compassion

High performance

Integrity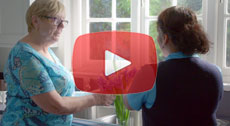 Because we care
Across Metro North, we care for thousands of people every day. We recognise it's the little things we do that can make the most difference.  Because We Care shows the acts of compassion our staff perform daily that often go unnoticed. It is an acknowledgement of the values already present in the work of our staff and an encouragement for them to continue to make our patients feel more at home.
Contact us
Metro North Board
Located: Level 14, Block 7
Royal Brisbane and Women's Hospital
HERSTON QLD 4029 
Phone: (07) 3647 9702
Email:  MNBFeedback @health.qld.gov.au
Metro North Chief Executive
Located: Level 14, Block 7
Royal Brisbane and Women's Hospital
HERSTON QLD 4029
Phone: (07) 3647 9501
Email:  MD16-MetroNorthHHS@health.qld.gov.au