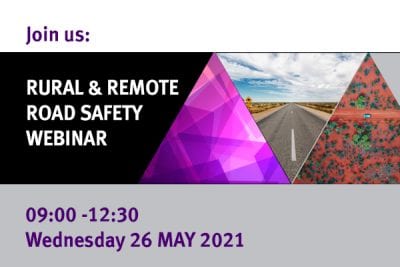 Rural & Remote Road Safety Webinar
Road trauma in rural & remote areas of Australia is a major road safety issue, with rural & remote road crashes contributing to roughly two-thirds of overall road fatalities. The rate of serious (non-fatal) road-related injury is nearly twice that of those in major cities. Indigenous Australians, young people & passengers tend to be disproportionately involved. Stakeholders need to work together to tackle this issue to determine the priorities going forward.
This webinar is a great opportunity to learn from perspectives of researchers, practitioners & regulators, including CARRS-Q, Jamieson Trauma Institute, MAIC, Queensland Health, Road Safety Data Bureau, Queensland Police Service.
Wednesday 26th May 2021
Time: 9am – 12:30pm
Venue: QUT's Gardens Point Campus, Brisbane (Lunch will be provided 12:30-1.15pm). Limited in-person attendance will be available (COVID-safe).