Medical careers at RBWH
Join the team– build a career with Metro North Heath
The Royal Brisbane and Women's Hospital (RBWH) is the largest hospital in Queensland with close to 1000 beds providing tertiary and quaternary level health services to Brisbane and more broadly to Queensland. It is part of Metro North Health which is the largest health service in Australia. It provides a full range of adult specialty services plus statewide services such as genetics. We are leading work in trauma and institutes on site. RBWH is located in Herston in Brisbane.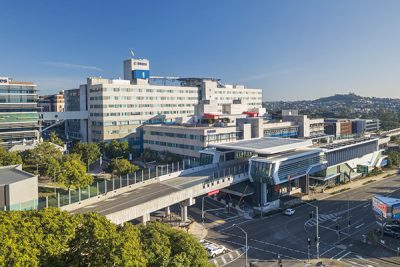 RBWH incorporates all major health specialties including medicine, surgery, psychiatry, oncology, women's and newborn services, trauma services and more than 30 subspecialties.
It has been internationally recognised as one of the top hospitals in Australia by Newsweek.
There are strong links with the co-located research facility, the Jamieson Trauma Institute & Herston Biofabrication Institute as well as collaborations with The University of Queensland and Queensland University of Technology.
RBWH is a popular choice and is usually over-subscribed in the Queensland Health intern and RMO recruitment campaigns.
RBWH is a fantastic place to train, whether your interests lie in medical, surgical or critical care specialities.
Our facilities and services include:
vibrant Resident Medical Officers Society and Medical Staff Association
clinical research opportunities via UQ and Queensland Institute of Medical Research.
easy access to transport with the RBWH bus station, Bowen Hills train station and the RBWH cycle centre.
facilities include an education centre, doctors' common room, library, chapel and prayer room, multiple food and retail outlets, childcare centre
several undercover car parking facilities within walking distance to the campus (fees apply)
state-of-the-art cardiac catheterisation laboratory and quantitative coronary angiographic system through cardiology
The Multidisciplinary Pain Centre is one of seven nationally accredited for training in the fellowship in pain medicine
Jamieson Trauma Institute integrating advanced trauma care and research
clinical research is fostered by close ties with The University of Queensland Centre for Clinical Research and Queensland Institute of Medical Research
Mental Health Services at RBWH is a state-wide leader in clinical practice, teaching, research and telemedicine
Clinical Skills Development Centre is on campus.
Education and training
CMORE Medical Education Unit focusses on providing support and assistance to Interns and House Officers at the RBWH. The Unit has an open-door policy and junior doctors are encouraged to seek help and support from any of the staff.
Some of the educational opportunities at the RBWH include:
For Junior Doctors
Weekly formal education sessions for all prevocational doctors
Excellent supervision and teaching in a broad range of disciplines
Large group of interns with good peer support
Research and case-based Medical and Surgical Grand Rounds for all Medical Officers
PGY2 procedural skills workshops and weekly PGY1 small-group education for interns while allocated to internal medicine, surgery, emergency, O&G, and mental health
Mentor program which provides support and guidance from senior and junior colleagues
Opportunities to network in specialty areas
For Registrars & PHOs
Departmental teaching sessions
Leadership opportunities
Opportunities to be RMO representative on RBWH committees where time allows.
Our research, healthcare and education hub extends to our universities and teaching facilities partners.
Our hospital is part of Metro North Health, the largest and most diverse health service in Queensland. We represent one of Australia's most dynamic workforces.
Positions available
Salary & Entitlements
Doctors work 76 hours per fortnight and on-call shifts but a minimum of 10 hours off between shifts.
The award includes annual, professional development and exam leave.
Metro North Health also offers generous salary packing options.
Superannuation paid up to 12.75%.