Food, drinks and services
The hospital has food, drinks and services for people to access.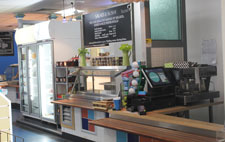 Breeze Cafe
The cafe offers fresh food, coffee, flowers, toiletries, magazines and gifts.
Location: Ground floor, Main Building, The Prince Charles Hospital
Open: Monday-Friday 7.00am-7.00pm, Saturday and Sunday 8.00am-3.00pm.  Public holiday hours vary.
Phone: (07) 3139 6625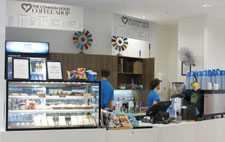 Common Good Coffee Shop
Location: Front entrance, The Prince Charles Hospital
Open: Monday-Friday 7.30am-3.30pm. Closed on weekends and public holidays.
Phone: (07) 3139 1154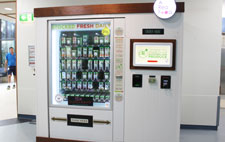 Vending machine – open 24/7
Breakfast, salads, sweets and snacks. Chef created on the go meals made fresh daily.
Located: Common Good Café, Ground floor, Main Building, The Prince Charles Hospital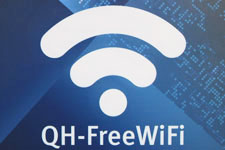 Internet and Wi-Fi
Free Wi-Fi is available throughout all patient areas within the hospital. To access the Wi-Fi service, you'll need to have a Wi-Fi-enabled device such as a laptop, iPad or smartphone. From the device, ensure your Wi-Fi function is turned on and displaying a list of available Wi-Fi networks. Look for a network named 'QH-FreeWiFi' and connect to that network.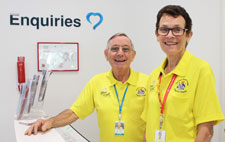 Information desk
To help you find your way around, we have information desks located at the front of the hospital. Here you will find our volunteers, also known as Charlie's Angels, in yellow. They are on hand to assist you with directions and if required escort you to your destination. Our volunteers work between 8.00am–4.00pm weekdays.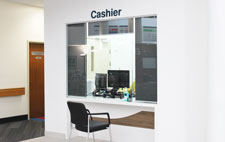 Cashier/Trust office
If required, valuables can be kept secure in the hospital Trust Office. This can be arranged by your nurse. Please drop off and collect valuables during normal business hours (Monday–Friday 8.00 a.m. to 3.45 p.m.). If money is placed in the Trust Office it will be returned to you in the form of a cheque. Upon request, up to $500 in cash can be returned to you in the form of a cheque.
Looking for food options outside of hours?
Food outlets and cafe options near the hospital.
Gympie Road, which is a 5-minute drive from the hospital, has a range of shops, restaurants and services, including Westfield Chermside Shopping Centre.
Justice of the Peace
A JP Service is available at the hospital every Monday and Thursday 9.30am–11.00am.
JPs are available for staff and visitors at the booth next to the Pharmacy Department on the ground floor near the main lifts. A patient visitation service is then provided between 11.00am–11.30am. Please ask to speak to a hospital social worker if you would like more information.
Lost property
If you leave any personal property behind when you leave hospital, items are kept for 3 months and if not collected, donated to charity. If you lose a personal item during your stay, you can email TPCHSecurity@health.qld.gov.au.
Public payphones
Public phones are located in the main foyer, near the entrance to the hospital, and outside the Common Good Cafe. Public phone cards can be purchased from the Common Good Cafe. Please ask staff for the phone located closest to you.
Breastfeeding facilities
A Mother's Room is located inside the toilets near the hospital's main entrance.
Toilets
General and disabled toilets and baby changing rooms are located on every floor of the hospital for patient and visitor use. Please ask staff for the toilet closest to you.