2017 Board meeting summaries
Board meeting at Royal Brisbane and Women's Hospital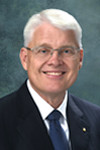 Dr Robert Stable AM
Chair – Metro North Hospital and Health Service Board
21 December 2017
The Board visited Royal Brisbane and Women's Hospital for its final meeting of 2017. Board members had the opportunity to tour the refurbished gastroenterology department with the state-of-the-art blue rooms, and the sites of the future Sony You Can cancer centre and the GEM ward. The Board also held two staff forums to meet with RBWH staff.
As part of the regular meeting business, the Board received updates on patient safety and quality, the National Disability Insurance Scheme, clinical services, finance and human resources. The Chief Executive briefed the Board on the Herston Quarter redevelopment project. Director of Aboriginal and Torres Strait Islander Health Unit Paul Drahm briefed the Board on the Improving Indigenous Outcomes action plan which focuses on health as well as employment and traineeship opportunities across Metro North.
Dr Jason Jenkins provided a briefing on the work of the Surgery Stream. The Board congratulated Jason on the excellent performance of clinicians, allied health staff and nurses.
In addition, the Community Board Advisory Group Chair Rachelle Foreman updated the Board on CBAG priorities for the coming year, and Dr Mark Appleyard provided an update on the RBWH Clinical Council. The Board participated in a panel discussion on healthcare of the future with Assistant Deputy Director-General Professor Keith McNeil, Professor Arun Sharma from QUT, and Dr Rob Grenfell from CSIRO.
In the past few weeks, Board members attended the Queensland Health Awards for Excellence to support our six finalist teams. Congratulations to the finalists and to the CURE-IT program for their award. Board members also attended the Community, Indigenous and Subacute Services staff excellence awards. Board members will also visit RBWH, TPCH, Caboolture and Redcliffe Hospitals on Christmas Eve or Christmas Day to thank staff for their work.
Previous 2017 meeting summaries
Contact us
Metro North Board
Located: Level 14, Block 7
Royal Brisbane and Women's Hospital
HERSTON QLD 4029 
Phone: (07) 3647 9702
Email:  MNBFeedback@health.qld.gov.au