2020 Board meeting summaries
Board meeting at RBWH Education Centre, Herston November.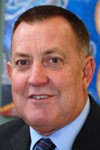 Jim McGowan AM
Chair – Metro North Hospital and Health Service Board
December 2020
Board Meeting Summary – 15 December 2020
A summary of the meeting is provided below:
The Board was briefed on patient safety and quality performance for Metro North, including key metrics such as complaints and compliments received, SAC1 and SAC2 incidents, hospital acquired pressure injuries, falls with harm, and the transfer of care reports completed within 48 hours of discharge. The Board approved the Quality of Care Snapshot, Metro North's online annual report to the community and consumers on its safety and quality performance.
The Board noted the report from the Chair and the briefing by the Chief Executive on important issues for Metro North including COVID-19 hotel quarantine.
The Board noted the Clinical Services Report including progress on outpatients performance. The Metro North Heart and Lung Stream lead, Professor Peter Hopkins discussed achievements including 25% reduction across long wait lists, the introduction of a nurse practitioner role at Redcliffe Hospital for heart failure and the focus on increasing virtual care and Hospital in the Home usage. Dr Sean Clark discussed the Emergency Medicine Clinical Stream Report. Metro North emergency departments responded rapidly to the COVID-19 pandemic through operating fever clinics, establishing separate COVID-19 zones, and embedding new work processes and training.
Management updates were provided on human resources, finance, operations, the Herston Quarter Redevelopment Project and the practical completion of the Surgical, Treatment and Rehabilitation Service (STARS). The Executive Director, Royal Brisbane and Women's Hospital outlined the hospital's key achievements for 2020 including initiatives to support staff wellbeing, the COVID response and recovery, STARS readiness, and being recognised in the Top 100 hospitals in the world by Newsweek magazine.
Reports were noted on the Caboolture Hospital Redevelopment, an overview of infrastructure projects, Internal Audit, and organisational risks. The Communications report detailed progress in online, social media and initiatives including support for events such as the Staff Excellence Awards and Herston Symposium.
The Chairs of each Board Committee provided an update on their respective Committee's work program comprising Safety and Quality Committee, Risk and Audit Committee, Finance and Performance Committee, Improving Indigenous Outcomes Committee, and Community Advisory Committee.
The Board will hold its next meeting on 23 February 2021 at the new STARS public health facility in Herston.
Previous 2020 meeting summaries
Contact us
Metro North Board
Located: Level 14, Block 7
Royal Brisbane and Women's Hospital
HERSTON QLD 4029 
Phone: (07) 3647 9702
Email:  MNBFeedback@health.qld.gov.au