Deciphering the link between sleep and dementia
A research team at The Prince Charles Hospital is investigating the link between a common sleep disorder and the single greatest cause of disability in adults over 65.
Obstructive sleep apnoea (OSA) is a highly prevalent chronic disorder that interrupts breathing during sleep. Researchers are proposing that the condition that affects over 1.5 million people in Australia may be a modifiable risk factor for dementia.
Advanced sleep scientist and researcher Dr Irene Szollosi said that sleep disruption can impact a person's memory and cognitive function and that OSA is a readily treatable cause of sleep disruption.
"Untreated elderly participants with OSA exhibit cognitive decline at twice the rate, and develop Alzheimer's disease at an earlier age, compared with the general population," Dr Szollosi said.
"There is encouraging evidence to suggest that identification and treatment of OSA, may produce positive functional outcomes and slow down the deterioration  of cognitive loss.
"We have studies looking at the impact of OSA in cognitively healthy and also in cognitively impaired patients to help determine the potential interaction between sleep apnoea and the progression of dementia."
In collaboration with hospital geriatricians and with support from The Prince Charles Hospital Foundation, the team is working with the Queensland Brain Institute and CSIRO to use innovative brain imaging techniques in the assessment of neuropathological patterns in patients with newly diagnosed OSA. "Because dementia has no cure, and there are limited treatment options, our goal is to reduce the burden of disease by targeting and treating a modifiable risk factor," Dr Szollosi said.
"If we can show that treating obstructive sleep apnoea can preserve memory and brain health, it is possible to develop rapid pathways for early diagnosis and treatment of OSA in patients with mild cognitive impairment or those with early signs of dementia.
"By doing this, we will achieve better outcomes for people with memory problems, stabilise their cognitive function, and allow them to live independently for longer."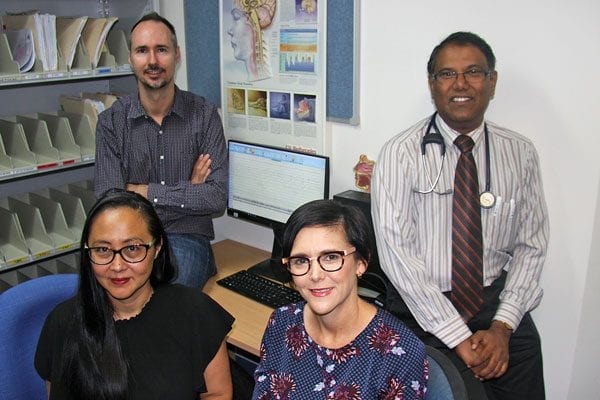 Sleep scientists and clinicians are working with geriatricians at The Prince Charles Hospital to investigate the link between sleep apnoea and dementia. Dr Irene Szollosi, Advanced Sleep Scientist (front left), Dr Deanne Curtin, Director Sleep Disorders Centre (front right), Dr Eamonn Eeles, Geriatrician and Head of Internal Medicine Research (rear left), and Dr Kannan Natarajan, Geriatrician (rear right)