Medical careers at STARS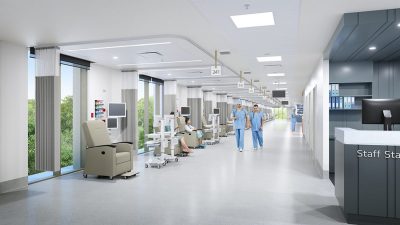 The Surgical, Treatment and Rehabilitation Service (STARS) is a new specialist public health hospital in Metro North Health. STARS is located at the Herston Health Precinct, which offers more than 30 health facilities, medical research institutes, universities and organisations. STARS delivers a range of new and expanded healthcare services to meet demand and increase patient access to specialist rehabilitation services, elective surgical and endoscopy procedural services.
As Australia's first purpose-built digital public hospital, STARS opened in 2021 with an integrated electronic medical record system. Digital healthcare at STARS includes technology to integrate devices to streamline workflows and patient care.
Key health services delivered at STARS include:
General Rehabilitation, Brain Injury Rehabilitation, and Specialist Rehabilitation Services
Geriatric and Evaluation Management Unit
Planned day and short stay surgical and endoscopic procedures including:
Ear Nose and Throat (ENT)
General Surgery including Breast and Endocrine, Colorectal, Hepatobiliary, Upper GI and Burns
Gynaecology including Gynaecology Oncology
Maxillofacial
Ophthalmology
Orthopaedics including Accelerated Arthroplasty Service and Complex Hand Surgery
Plastic Surgery including Skin Lesion Assessment Management where a patient is seen and treated in the same day
Urology including Robotics
Vascular Surgery
Specialist Medical and Allied Health outpatient and treatment rooms
Medical Careers at STARS
Rehabilitation Medicine and Geriatric Medicine Consultants, Registrars, Resident Medical Officers (RMOs) and Interns are recruited and employed by Royal Brisbane and Women's Hospital and work at STARS.
Anaesthesia Consultants, Registrars and non-training PHOs are employed by STARS.
Surgeons and Proceduralists are employed by either STARS or attend from their 'home' hospitals. Registrars attend from their 'home' hospital with their surgeon.
Senior Medical Officer positions at STARS are advertised through Smart Jobs.
RMO, Registrar and PHO positions at STARS are advertised through the Queensland RMO and Registrar Campaign that is run annually. This year, the campaign will launch on Monday 5 June 2023. For further information, please contact RMO-Recruitment@health.qld.gov.au
Research at STARS
The STARS Education and Research Alliance (SERA) supports clinicians, researchers and students to work together as a multidisciplinary team to provide real time solutions and tailored care to enhance patient outcomes. Through SERA, UQ students will experience a high standard of quality clinical exposure to complex rehabilitation services. There will also be a number of conjoint research positions for staff.
Contact us
STARS Medical Recruitment
Email: STARS_MWU@
health.qld.gov.au
Nathalie Baker
STARS Medical Workforce Coordinator
Phone: (07) 3647 6935
Zoe Catley
A/Senior Medical Recruitment Officer
Phone: (07) 3647 6936
Ebony Trapp
A/Rostering, Allocations and Support Officer
Phone: (07) 3647 6934