Men's shed brings finishing touches to Charles' final wish
Cancer sufferer Charles Knight has always had a love of woodwork and hand crafting wonderful things.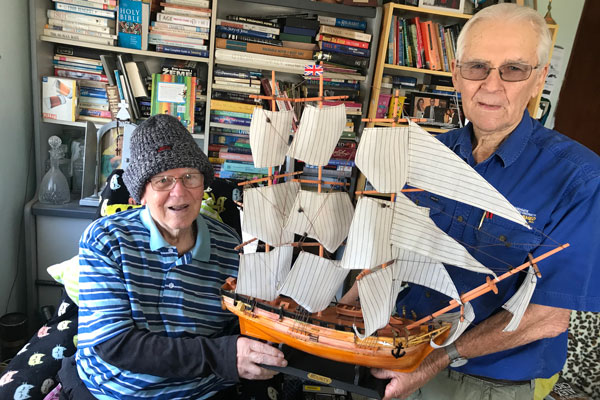 More recently when Charles couldn't finish building his replica boat of Cook's Bounty due to ill health, the caring blokes at the Sandgate and District's Men's Shed stepped in to help out.
Men's Shed members tenderly applied the last touches to the boat that Charles had started a few years earlier and which he had always dreamed of finishing.
"It is so beautiful," Charles said. "I can't take my eyes off it."
"Thank you to the members of the Men's Shed that made this happen. Thank you all so much."
Wife Anna Shiraze-Knight said when Charles didn't feel well he always wanted to make and craft things from wood.
"It not only made him feel better, it always reminded him of his father Augustus," she said.
"Woodwork is one of his favourite hobbies which he learnt this from his father who sadly passed away when Charles was 10 in 1947."
Brighton Health Campus Nurse Navigator Paramjit Kaur said when he discussed with Charles his end of life wishes, there was only one – to complete his model boat before he passed away.
"He needed someone to support him in this journey, and that's when I connected with the Community and Oral Health Engagement team for assistance, who linked me, Charles and his wife to the Men's Shed," she said.
"We are so grateful for Peter Harrison and the Men's Shed for granting Charles' important wish."
Anna said when the time was right they would donate the replica of the Bounty to the Queensland Museum with information about Charles.
"We want to help raise awareness about the Cancer Council and the great support they provide, but also help people who suffer from cancer," she said.
Throughout Charles' life, the Gordon Park resident has been a draftsman, health inspector and plumber.
He recently accessed care in the home from Community and Oral Health, while being cared for by his wife.
The Sandgate and District's Men's Shed will also build a frame for the replica boat in the coming weeks.