From hospitality to hospital: TPCH Kitchen Supervisor Joan sweetens patients' stays
Joan Fernandes has spent the past 32 years in some of the world's largest kitchens, spanning hotels and famous pastry shops in India, the UK and Australia.
But one stands out from the rest – the 120-person The Prince Charles Hospital (TPCH) kitchen where she has traded in her pastry chef skills to cook for a wider audience of those who are unwell and need it most.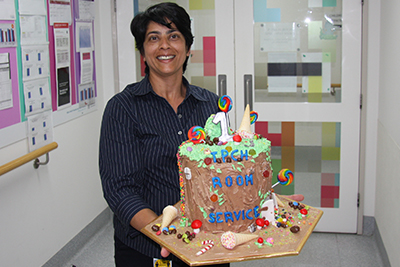 Growing up in India, her mum and sister both worked as nurses and encouraged Joan to follow suit. But Joan chose to forge her own path training as a qualified chef before nabbing a role at one of Bombay's largest hotels.
Little did she know that 17 years on, she would be working in a health setting herself, using her culinary magic to brighten the days of those in hospital.
This week marks one year of the hospital's room service program, a Queensland Health-first pilot which has allowed patients to order freely from a plentiful menu.
Joan, who is now a Senior Supervisor in the kitchen, said choice was important to all – not only in big hotels but for patients in hospitals too.
"The room service program has received so much praise and people will often write us thank you notes on their food tray," Joan said.
"You can have all-day breakfast should you sleep in late, or scrambled eggs for dinner if you want to – the opportunity to choose is so important for our patients and I would like to see all hospitals embrace this model."
As well as boosting patient satisfaction, Joan said the program has reduced food waste with significant sustainability benefits for the hospital.
To celebrate the birthday of the room service pilot program this week, Joan drew on her well-developed baking skills from her past career to create an elaborate rainbow mud cake for some lucky patients and staff.
"Desserts and pastries were my specialty but these days I reserve these for special occasions or requests with friends and family," Joan said.
"Often our work from the kitchen is the small joy in a patient's stay – and to see their smile or to make them happy during a tough time, that makes it all worthwhile."