Home for first Christmas in 4 ½ years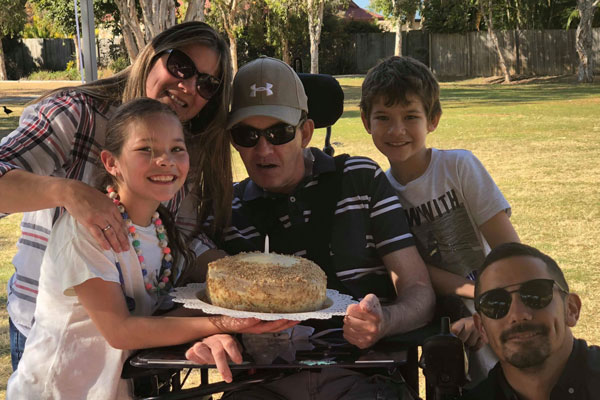 It has been a long and very difficult journey for father of two and caring husband Mark McLaren after suffering a brain haemorrhage while on a family holiday to Disney Land in 2015.
But, after continuing rehabilitation and the unwavering strength and support of his wife Gaby he finally came home after four and half years, and in time for Christmas.
"It has been a lot of effort, and a lot of compromise through this journey," Gaby said. "Bringing Mark home is another step in his recovery – Mark still has a long road ahead."
Two months after his debilitating brain bleed in 2015, it took five days for Mark to be transported from the United States of America to the Royal Brisbane and Women's Hospital (RBWH) by an intensive care air ambulance.
"Mark stayed at the RBWH for a total of seven months before he was admitted to the Acquired Brain Injury Service at Bracken Ridge (which is now located at Brighton Health Campus) in May 2016," Gaby said.
"He suffered many setbacks during his recovery, required further surgery and high intensity therapy at times to help him do simple things like eating by himself.
"But Mark has a strong will and hopefully being home will give him another strong push to continue to improve."
Community and Oral Health Social Worker Rachael Hewitt said when Mark first came to the Brighton Brain Injury Service he had minimal movement however, his participation in the rehabilitation program has seen him make steady progress.
"For this family, the good news story has begun. While Mark will continue to require ongoing therapy and support he is returning home to be reunited with his family after a very long recovery in hospital and specialist intensive care," Rachael said.
"Mark will be able to achieve the important goal of being a Dad again, attending his children's sporting and school events and being with them at home each day."
At the same time as Mark was recovering, Gaby continued to look after their two children, determinedly visited and supported Mark through his rehabilitation therapy, and made plans to build a new home at Warner in which Mark could live.
"As an owner builder it hasn't been easy, but the home which we started in July 2017 is now ready for Mark, although there is still a bit to do outside. It is specifically designed for Mark's needs," Gaby said.
"We are going to keep working and trying very hard to help Mark. We will continue to give him the best opportunity to be as independent as possible.
"The kids are very happy as they don't have to go to the hospital each weekend," she said.
During Mark's ongoing rehabilitation, Gaby received support from the Brighton Brain Injury Service, and Youngcare who also kindly donated $15,000 for specialist equipment including a purposely designed bed and companion bed for Mark.
Mark will continue to need ongoing support, therapy and care which has been funded under the National Disability Insurance Scheme.
"Thank you to all of the therapists at the Brighton Brain Injury Service that have helped Mark reach this important milestone," Gaby said.
"Over the last year, they have been working very hard with Mark to get him ready to be discharged. Thank you to the nurses and social workers for their support."
Gabi said the next goal for Mark was to get him to walk again unaided. While in a wheelchair, he is currently receiving therapy to help him do just that and has so far managed to walk with some assistance.