Prostate cancer patients at RBWH receive the best possible care thanks to Dry July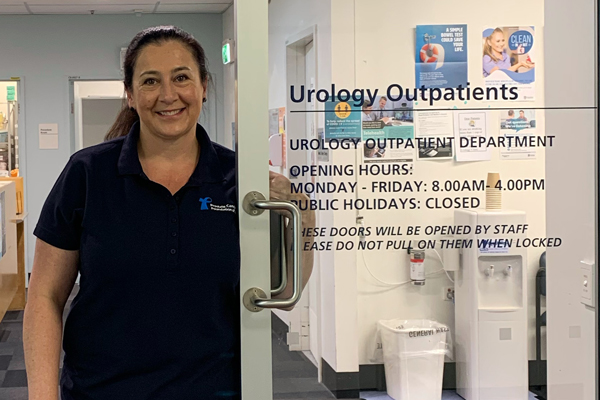 Prostate cancer patients at Royal Brisbane and Women's Hospital (RBWH) can now receive support from an expert nurse in prostate cancer all thanks to funding from Dry July.
Every year, the Dry July campaign, which encourages people to go alcohol-free for a month, raises important funds for people impacted by cancer. After last year's successful Dry July fundraiser, RBWH was selected as the lucky beneficiary of funding for a full-time Prostate Cancer Specialist Nurse – a role brand-new to RBWH.
Natasha Roberts was the successful applicant for the Prostate Cancer Specialist Nurse position, and she says it is very rewarding to support men and their families affected by prostate cancer.
"Roles like this don't come up very often. It is a very special thing to help patients navigate the challenges of a prostate cancer diagnosis, treatment options and life after prostate cancer."
Natasha has been a nurse for over 25 years, many of which were spent working as an oncology Clinical Trials Nurse in Cancer Care Services. More recently, Natasha completed her PhD investigating the use of patient reported symptom measures in the routine care of oncology patients.
But it was particularly her involvement in the Australian and New Zealand Urogenital and Prostate Cancer Trials Group which inspired her to do the additional training to become a Specialist Prostate Cancer Nurse.
"Through this experience, I got a real sense of the unique challenges men with prostate cancer can face – both physically and emotionally.
"Prostate cancer patients can end up having many different treatments, treating teams and ongoing impacts from their cancer.
"That's why it's so important for men to have access to a dedicated healthcare worker who is there to provide tailored support when they need it. That's what the Prostate Cancer Specialist Nurse role is all about."
Beyond providing direct care and support to men and their families, Natasha is excited about the opportunity to translate cutting-edge research about prostate cancer into practice.
"There's incredible research and innovative ideas out there to help improve the care given to men with prostate cancer. Because of this new position, we now have the capacity to put these things in place," Natasha said.
Natasha shares her time between the Surgical and Peri-operative service and the Cancer Care service at RBWH.