Community pharmacy driving new innovative approaches in vaccine rollout – WINNER
The Community and Oral Health Pharmacy Vaccination Services team led by Kerry Feilding having been driving ideas into action through innovative approaches by standing up dozens of vaccination clinics over the last eight months.  
Community and Oral Health Acting Executive Director Glynis Schultz said these achievements have not been without their challenges and have required adaptation of processes, creative problem solving and great flexibility.  
"A prime example of this is the flexibility and innovative thinking that enabled the conversion of spaces at a horse racing track and ex-car dealership into suitable environments for the preparation of hundreds of vaccinations per day," she said.  
"Challenges such as suitable storage and transport for vaccines were overcome through the adaptability and willingness of staff to think outside the box."  
In 2021, the Pharmacy department has: 
Established a Pfizer Hub at STARS, which distributes stock to other vaccination clinics across Metro North, including cold chain monitoring and management. 

 
Developed processes for dilution and draw up of vaccines, adhering to strict guidelines and requirements to ensure stability of vaccine.

 

Onboarded and trained more than 30 pharmacy staff in vaccination handling processes.

 

Established vaccination draw up areas at multiple vaccination sites and pop-up clinics across Metro North at short notice.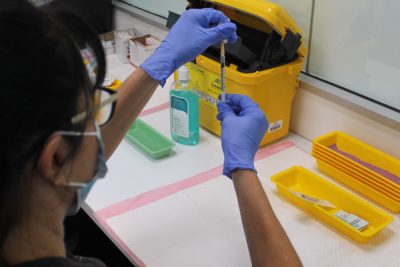 Glynis said Pharmacy was a discipline bound by many legislative requirements.   
"The COH Pharmacy department manage daily reporting, distribution and handling of vaccine within the bounds of the guidelines set down by the Vaccination Command Centre, yet still meet the organisation's expectations in regard to delivery targets and supply," she said. 
"The staff in Pharmacy themselves have shown great resilience and flexibility as the service stretches to provide services across clinics running extended hours, while maintain services within COH.  
"Existing staff have upskilled and worked additional shifts to cover rosters, while new staff have hit the ground running.  
"For most of them vaccination clinics are unchartered territory, but they have embraced the opportunity to learn new skills and processes with determination and focus." 
Currently the COH Pharmacy Vaccination Services staff prepare and supply thousands of  vaccination doses per day across many sites including the new Boondall Mass Vaccination Clinic, and temporary pop-up clinics at Schools, City Hall and Bunnings Warehouses.