'Walk a mile in my thongs' changing lives, one pair at a time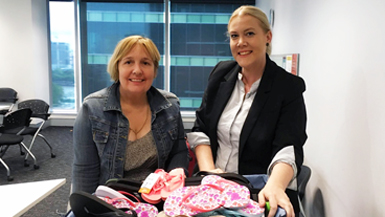 A suitcase filled with footwear has boarded a plane to the North West Hospital and Health Service in Mt Isa on a journey to make a difference in the lives of some of our most rural and remote patients.
'Walk a mile in my thongs' was an initiative established by Caboolture Hospital Nurse Navigator Nikia Goldsmith, who was shocked to hear that some rural and remote patients couldn't board planes to visit tertiary healthcare centres because they don't own shoes.
"All Nurse Navigators in Queensland got together via telehealth, and we were talking about barriers that stop us helping patients," Nikia said.
"Nurses in Mt Isa said that some patients couldn't make it to their appointments because they didn't have appropriate footwear to board planes."
Nikia was motivated to help patients who had a significant disadvantage, because they lacked a basic clothing item.
"What's one person to do?" she said.
"I thought well, I'm going to give them shoes. I called up Mt Isa to ask if thongs were suitable and they said they were fine. So I went down to the local Kmart and purchased as many pairs of thongs as I could fit in my arms."
Other Metro North Nurse Navigators also made the trip to their local shopping centres, and together they bought 50 pairs of shoes, filling a suitcase, ready to head up north.
It's not every day that the simple act of purchasing a pair of thongs could make such a huge difference in healthcare. And as a nurse, this gesture of compassion was not just something Nikia wanted to do, it was something she needed to do.
"It was common sense to do this. We do our work as Nurse Navigators so that people can get the care they need, no matter where they live."
Her 'Walk a mile in my thongs' initiative has already seen nurses from all over Queensland stretch out their helping hands and offer to buy footwear for disadvantaged patients in the future.
It's even encouraged some Nurse Navigators to reach out for help, with the Torres Strait and Cape York Nurse Navigators already making a request for shoes as their patients suffer the same issue.
Nikia and her team are an example of Metro North's Values in Action and through her act of compassion, she had made a big difference to the lives of patients in Queensland's most regional and rural towns.
"We think we have barriers to access in our own health service, but this barrier in remote areas is on another level.
"So this small act is something we all can do to improve lives and make a big impact."