World Prematurity Day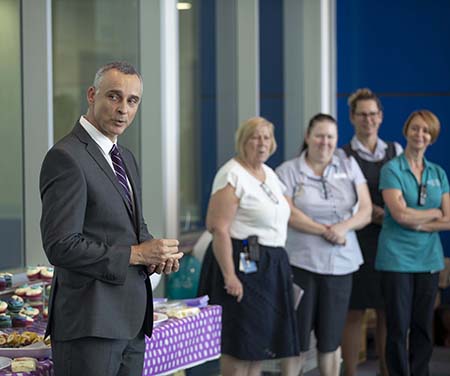 When Goondiwindi mum Chellice Roberts arrived at the Royal Brisbane and Women's Hospital (RBWH) 16 days ago, she had no idea if her newborn baby Adrian was going to survive.
Born at just 26 weeks at the Goondiwindi Hospital earlier that morning, the 980 gram baby boy had been stabilised and airlifted through the NeoRESQ service shortly after, and flown 350km to the RBWH Neonatal Intensive Care Unit (NICU).
"I had Adrian at 9.43 in the morning and there was just no time as he arrived so quickly, but Goondiwindi is such a small community we just don't have the facilities for such a premature baby," Chellice said.
"But the chopper was there before11.30, it all happened so fast and the next thing I knew there were these amazing people taking care of him," Chellice said.
While the mum-of-three can't wait until the day she's able to take her healthy baby home, she is thrilled to be able to celebrate World Prematurity Day at the RBWH with other mums who are going through the same ordeal, alongside the life-saving specialists and medical staff who take care of the state's tiniest and most precious patients.
Minister for Health and Minister for Ambulance Services Steven Miles said around 1800 babies are cared for in the RBWH Grantley Stable Neonatal Unit (GSNU) each year, many of whom are brought in from regional and remote areas by coordinated retrieval service NeoRESQ, just like baby Adrian.
"Having a premature baby can be one of the darkest hours of a new parent's life, but no matter where they live or how remote they are, NeoRESQ ensures that these mums and bubs get the absolute best care possible," Minister Miles said.
"As one of the largest neonatal units in the country, the RBWH GSNU is filled with the most remarkable staff who dedicate their lives to these tiny patients, during the most fragile time of their lives," he said.
"There are literally thousands of Queenslanders out there who are alive today because of the work of these incredible people, and I'm so proud of every one of them."
NeoRESQ Director Dr Lucy Cooke said Adrian was one of more than 500 preterm babies retrieved through NeoRESQ in the past 12 months from across Queensland.
"Around 20 per cent of admissions at RBWH GSNU come from as far north as Rockhampton and as far south as Grafton thanks to our service," Dr Cooke said.
"By air and by road, we ensure babies from across the state have access to world-leading health care," she said.
"We also support other hospitals across in state through telehealth, so families can stay closer to home during what we know is likely to be the most difficult time of their lives."
RBWH Director of Neonatology Dr Pieter Koorts said World Prematurity Day was a special opportunity to recognise the vital role NeoRESQ and the neonatal unit play in the lives of so many touched by pre-term birth.
"RBWH has a reputation as a leader in the care of premature babies," Dr Koorts said.
"The care of very tiny babies ranges from the very simple and delicate to the slightly unexpected, but it's very different from caring for adults," he said.
"From the most stringent infection control and vigilant monitoring of their tiny organs, to caffeine shots to maintain little heart rates and help them breathe better, each baby's needs are changing all the time."
NeoRESQ is a result of extensive collaboration between Royal Brisbane and Women's Hospital and the Mater Mother's Hospital, and was first launched in 2015 by the Palaszczuk Government.
RBWH also helps reduce the length of hospital stay and improves the survival rates of preterm babies across the country through the Queensland Milk Bank.
The bank, the largest of its kind in Australia, supplies Pasteurised Donor Human Milk to 16 other hospitals.
Since its inception in 2012, the Queensland Milk Bank has been donated more than 6000 litres of milk from 650 donor mothers. The milk has improved the health outcomes for more than 1700 premature babies, just like Adrian.