Cultural and linguistic diversity and healthcare
Brisbane North is one of the most populous and fastest-growing areas in Queensland. It is home to a large community of people from culturally and linguistically diverse backgrounds. Metro North Health is Australia's largest public health service, providing care to a community of over one million people. With a growing multicultural population, we recognise there is no 'one size fits all' approach when it comes to understanding the care needs or the requirements of those with different backgrounds in our community. It is important to let the hospital know about any requests you may have when you book in and when you arrive for your treatment.
Language and cultural support in hospital
People from all backgrounds can benefit from language and cultural support. If English is not your first language, you are entitled to a free professionally accredited interpreter in your preferred language. This includes people who are deaf or hearing impaired and communicate through sign language such as Auslan (Australian Sign Language). By providing this service, we support by facilitating two-way conversation and understanding between you and your medical treating team either in person, over the phone or video. We provide interpreter services in more than 130 languages. Generally, a minimum of 24 hours' notice is required to book an interpreter. Please ask the nursing staff to arrange one for you.
When an interpreter is not available in person
If we can't get access to an interpreter in person, a telephone or video interpreting service is an option. Telephone and video interpreting is a professional service for people who speak languages other than English, who need immediate help talking with healthcare staff.
Family or friends as interpreter
You must not use family members, friends or carers to be your interpreter. However, sometimes they may have to help you when an interpreter is not available (either in person or on the phone). The decision to use a family member, friend or carer and why, must be documented by staff in your health record. Interpreting, particularly around medical words, is not an easy task and should be left to highly trained and accredited interpreters.
Language badge program
We have over 250 staff participating in our Language Badge Program to support our Culturally and Linguistically Diverse patients.
The Language Badge Program aims to provide an opportunity to staff and volunteers who speak languages in addition to English to use their skills to contribute towards a culturally responsive environment. Metro North Health staff and volunteers who fluently speak languages in addition to English can choose to wear a language badge at work to provide cultural and basic language support to patients and their families coming from culturally and linguistically diverse backgrounds.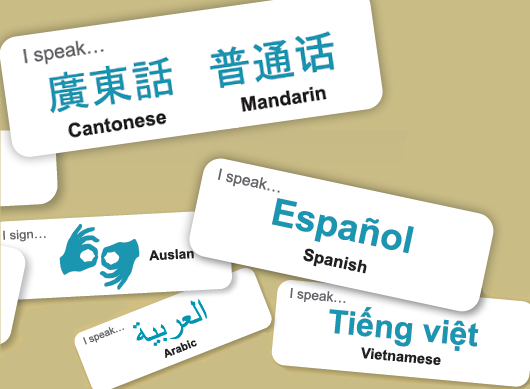 Staff are not interpreters but depending on their role at the hospital they can:
Help direct patients to where they need to go
Explain basic care instructions
Have friendly chat
If you need and interpreter, ask staff and they can organise one.
Requesting a female or male doctor
If you have specific cultural care requirements, such as wanting to see a doctor of the same gender, tell the hospital staff or nurse preferably when you book your appointment or when you arrive at the hospital.
Health Translations Directory
Health Translations is a website that provides links to translated health information resources and publications. You can search through lots of resources by either language or topic.
Australian Charter of Healthcare Rights
The rights you have while accessing Metro North Health services are outlined in the Australian Charter of Healthcare Rights. The Australian Charter of Healthcare Rights allows patients, consumers, families, carers and service providers to have a common understanding of the rights of people receiving health care.
Under the Australian Charter of Healthcare Rights, you have the right to: