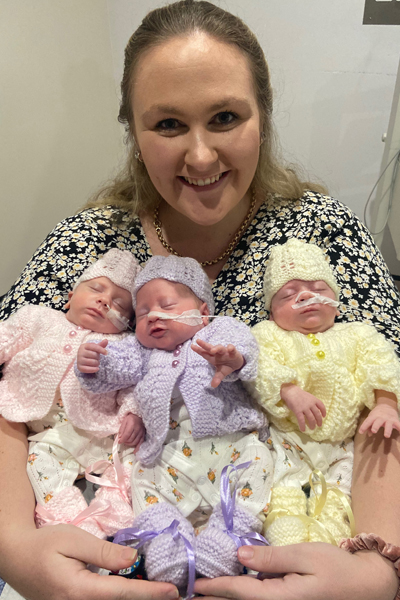 Caboolture local Breanna West scored an instant family recently, giving birth to fraternal triplet girls.
Isabella, Charlotte, and Maisie were born at 30 weeks and 4 days, spending their time in our Special Care Nursery (SCN) as they continue to grow.
The naturally occurring triplets happen in approximately one in 10,000 cases and were a surprise to mum Breanna who had no multiple birth history in her family.
Paediatric director at Caboolture Hospital Dr John Waugh said the babies will be able to go home once they are able to suck feed.
"Premature triplets need a little bit more time in special care but the girls are coming on really well," he said.
"We don't see many triplets at Caboolture Hospital, maybe one set everyone to two years and those that are not IVF babies are less common."
Breanna and partner Daniel spent their first Mother's Day alongside their daughters in the SCN, where a number of media came along to document the special day.