Foot ulcer
Emergency referrals
All urgent cases must be discussed with the on call Registrar to obtain appropriate prioritisation and treatment. Contact through:
Caboolture Hospital (07) 5433 8888
Redcliffe Hospital (07) 3883 7777
Royal Brisbane and Women's Hospital (07) 3646 8111
The Prince Charles Hospital (07) 3139 4000
Urgent cases accepted via phone must be accompanied with a written referral and a copy faxed immediately to the Central Patient Intake Unit: 1300 364 952.
Red flags
Consider immediate referral to the emergency department for patients with the following
Cellulitis failing to respond to oral antibiotics within 48 hours
Infected foot ulcer with systemic features
Acute charcot arthropathy
Podiatry led Multidisciplinary High Risk Foot services are provided at 7 services in Metro North Hospital and Health Service. Patients will be allocated based on their postcode and clinical complexity.
Other important information for referring practitioners
High Risk Foot Clinical Management Pathway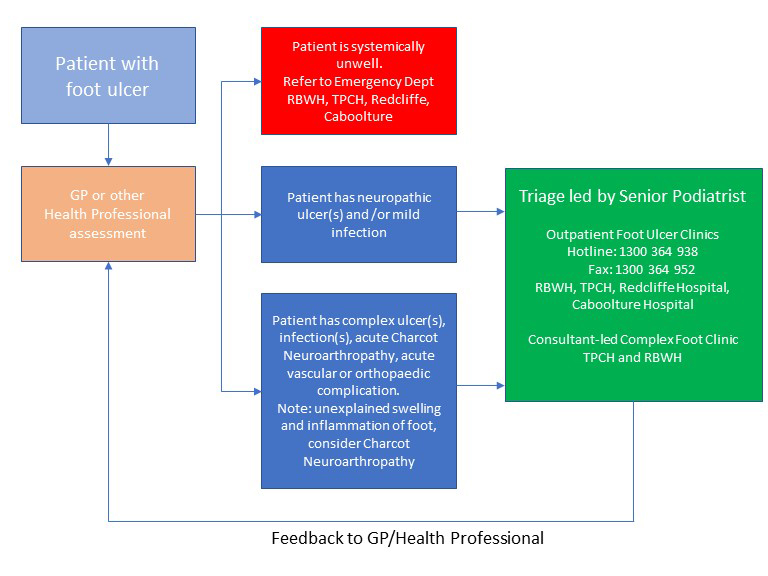 Referral requirements
A referral may be rejected without the following information.
Specialists list
Send referral
Hotline: 1300 364 938
Fax: 1300 364 952
Electronic: eReferral system
Mail: Metro North Central Patient Intake
Aspley Community Centre
776  Zillmere Road
ASPLEY QLD 4034
Locations