Engagement success stories
Metro North staff from many different services and disciplines engage with various partners and consumers to improve care. Read some of our engagement success stories below.
Cancer Care Services: Information hub
"I felt proud to be a part of developing the Cancer Information Hub. I felt informed and involved ….my voice and opinion was appreciated and listened to."  – Anita
Mental health: Hospital to Home
"I am now able to talk through my past 'demons' without getting angry or hurting myself" – Mick
Oral health: Community connection
"I can't express how grateful I am for the opportunity to attend this clinic. I have trouble using phones to make appointments with long waits and credit limit." – Sam
A&TSI Health Unit: NAIDOC Week
"I'm proud to identify as Aboriginal. I received a lot of support as a first-time mum and the hospital was great at helping me settle into motherhood." – Fiona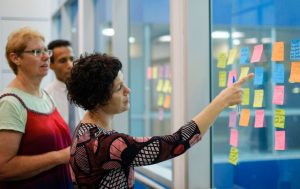 Community Board Advisory Group
The Community Board Advisory Group provides advice and guides Metro North Hospital and Health Service's approach to consumer and community engagement and facilitate connections that support improved health outcomes for communities in Metro North.