Ethics and governance
Metro North Hospital and Health Service (MNHHS) is committed to the highest standards of research integrity. Research governance, including the ethical review of research, refers to the processes to ensure that research in Metro North Hospital and Health Service is conducted according to the appropriate regulatory, ethical and scientific standards. The framework for research governance is relevant to all stages of the research process.
Research approvals
In order to conduct research in Metro North HHS, it is a requirement that all research first obtains the following:
The Metro North Hospital and Health Service research ethics committees and research governance officers are the contact point for obtaining relevant research approvals.
Use of confidential health information
In some cases approval to use confidential information for the purposes of research must be obtained after ethics approval and prior to site authorisation.
Post-approval reporting
While undertaking a research project, researchers have an obligation to both the participants and to the Human Research Ethics Committee (HREC) and Research Governance Officers to provide reporting and monitoring.
Metro North Research policy and procedures
The Metro North Research Policy and Procedures provide a framework to promote the responsible and ethical design, conduct and communication of research. Each is based on the principles of the National Statement on Ethical Conduct in Human Research (National Statement) and the Australian Code for the Responsible Conduct of Research (the Code), in the context of institutional policies, state and federal legislation and regulatory guidelines.
Frequently asked questions
Research process
Key steps in the research approval process are shown in the diagram below.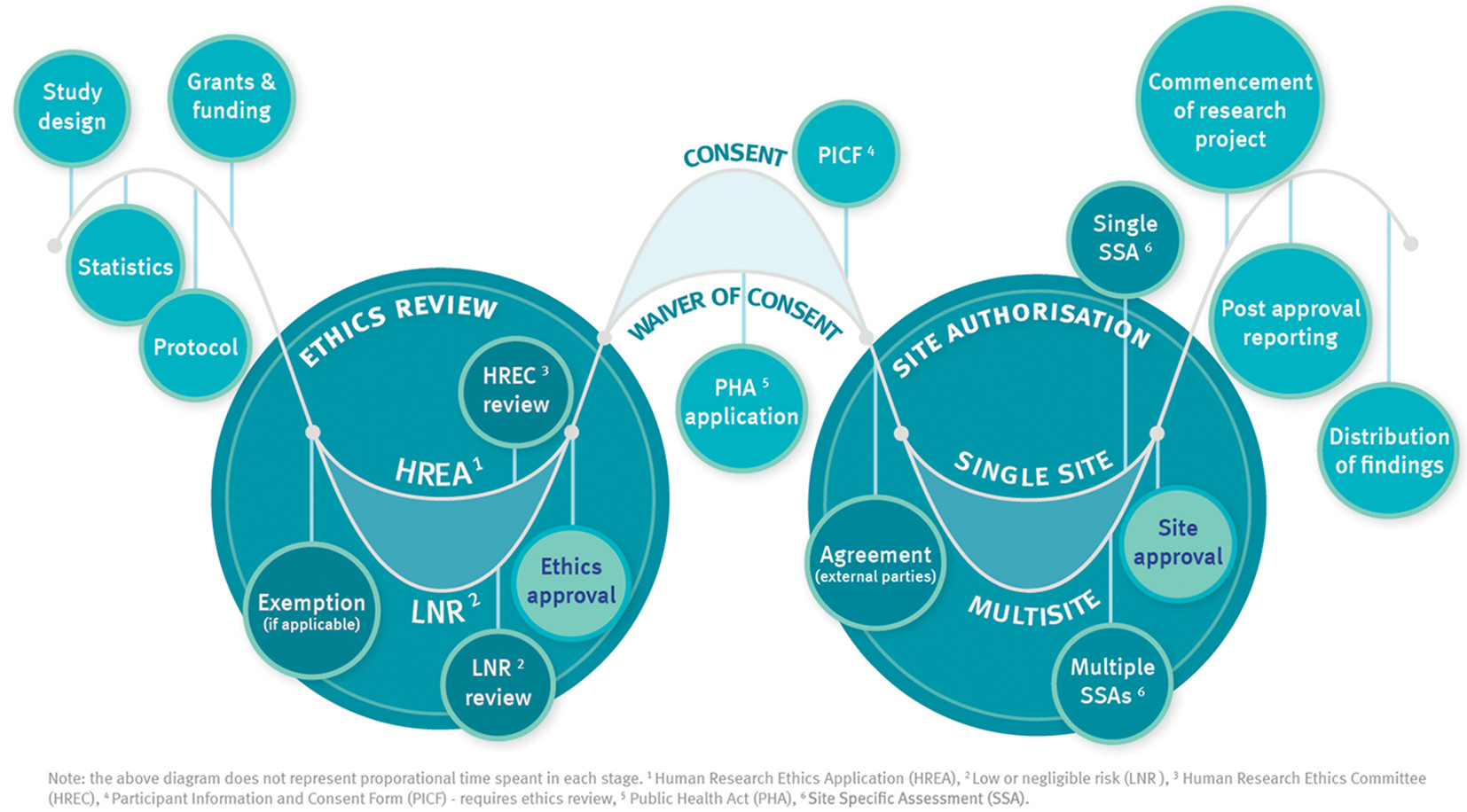 Contact us
The Prince Charles Hospital
Research office
Building 14
Rode Road
CHERMSIDE QLD 4032
Human Research and Ethics Committee
Phone: (07) 3139 4500
Open: Monday-Friday, 8.00am-3.00pm
Email: ResearchTPCH@health.qld.gov.au
Chairperson: Dr Russell Denman
Coordinator and Manager: Anne Carle
Research Governance Officer
Phone: (07) 3139 4407
Open: Monday-Friday, 8.00am-3.00pm
Email: RGOTPCH@health.qld.gov.au
Contact:  Ascar Yu
Royal Brisbane and Women's Hospital
Human Research Ethics Office
Lower ground floor, Executive Offices
James Mayne Building
Butterfield Street
HERSTON QLD 4029
Phone: (07) 3646 5490
Open: Monday-Friday, 8.00am-3.00pm
Email: RBWH-Ethics@health.qld.gov.au
Chairperson: Dr Gordon McGurk
Phone: 07 3646 0331
Coordinator: Ann-Maree Gordon
Research Services
Lower ground floor, Executive Offices
James Mayne Building
HERSTON QLD 4029
Phone: (07) 3646 8579
Fax: (07) 3646 2355
Open:  Monday-Friday, 7.45am-3.45pm
Email: RBWH-RGO@health.qld.gov.au
Contact: Jacqueline Robinson
Redcliffe, Caboolture and Kilcoy Hospitals and Community, Indigenous and Subacute Services
Research Office
Redcliffe Hospital
Anzac Avenue
REDCLIFFE QLD 4020
Research Governance Officer
Phone: (07) 3883 7243
Open: Monday-Friday, 8.00am-4.30pm
Email: RCRGO@health.qld.gov.au
Contact: Vanessa Constable