Metro North Health are a proud employer of many overseas medical professionals, and we are excited that you are considering moving to Brisbane and South East Queensland to work at one of the Metro North Health hospitals.
Why Metro North Health?
Metro North Health offers amazing opportunities to international medical graduates to gain clinical experience in world class facilities whilst enjoying the lifestyle South East Queensland provides. Brisbane is one of the fastest-growing cities in Australia and is known for its vibrant urban precincts, outdoor lifestyle and friendly locals. Nearby you can visit world class beaches or enjoy our beautiful hinterland.
Largest health service in Australia: quaternary teaching hospitals to community facilities
Each hospital facility has its unique benefits for both work and lifestyle.
Application Process
How we support doctors?
The Medical Workforce Units will provide support throughout your application process.
Eligibility to Work in Australia visa – process support
Eligibility to practice medicine in Australia – Medical Board of Australia (MBA) registration process support
What we ask from you?
When making an application we ask for your commitment to the Metro North Health hospital or facility you apply to.
Eligibility to work in Australia
The following people can work in Australia:
Australian citizens
Australian permanent residents
New Zealand citizens who entered Australia on a valid New Zealand passport
non-Australian citizens holding a valid visa with work rights evidenced by current Visa Entitlement Verification Online (VEVO) check
Work Visas
Each facility workforce team can provide clear and consistent advice to candidates seeking information to work in Australia, information on employer sponsorship aligned with the HR B46 Citizenship, Residency, Visas and Immigration Policy and assistance in determining which visas are aligned with work rights and conditions.
Assistance with visas and guidance on the applications is provided in accordance with the requirements of the Department of Home Affairs (DoHA), immigration and citizenship services. You can find out more information on their website.
While Metro North Health may offer sponsorship to potential overseas professionals via a recruitment process, sponsorship into these professional clinical roles is to strengthen the regional economies and complement the skills but not replace the skills if available by the local labour market.
Only in the circumstance that an Australian applicant pool is insufficient to fill a skilled clinical vacancy it may be appropriate to source candidates from the overseas market.
Sponsorship is available at the discretion of Metro North Health delegates.
Requirements to Practise & Medical Registration
In order to practise medicine in Queensland and/or Australia wide, medical practitioners are required to be registered with the Medical Board of Australia or be eligible for Registration with the Medical Board of Australia (MBA).
The Board's International Medical Graduates page provides the latest information about the pathways to registration for international medical graduates.
The MBA has developed registration standards in relation to the expected level of :
english language proficiency
recency of practise
continuing professional development
professional indemnity insurance
criminal history.
Find out more about Queensland's requirements to practice medicine.
Medical Career Structure in Queensland
There are a variety of career paths medical practitioners can take within Queensland Health.
The following diagram provides an overview of typical career pathways for medical officers working in Queensland Health. It does not reflect the award structure and may vary from facility to facility.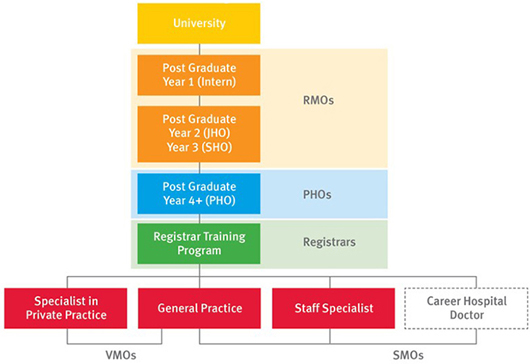 * Please be advised that the above diagram is reflective of the practical structure you work in, this does not reflect the Queensland Health industrial relations awards structure. The diagram is a general reflection and may vary depending on circumstance.
How to apply
2

Scheduled Annual Recruitment – Jan/Feb intake (RMO & Registrars)

Each year Queensland Health runs a campaign to recruit resident medical officers (RMOs) for positions across the state.

For more information on the application process for JHO and SHO positions please go to the Participating Hospitals page on the RMO Campaign website.

View the dates to submit your application and the recruitment and selection processes.
3

Expression of interest

Use the expression of interest if there isn't a position available on the SmartJobs website and you are looking for a position now, please contact us via the expression of interest below to see if we have any upcoming positions that have just closed or are becoming available soon
Relocation Support
Once have accepted a role at Metro North Health, the Medical Workforce Units can provide assistance with your relocation.
Eligible appointments may be able to seek assistance for transfer and appointment expenses.
Please discuss your eligibility with the Medical Workforce Unit when you apply as to their conditions.
How we support you?
Reimbursement of relocation expenses (subject to local approval)
Accommodation support on arrival
Support & orientation to facility on arrival
Junior doctor supports at each facility including Medical Education & Workforce Units
What we ask of you?
Commitment to complete your time in your position at your hospital or facility
Salary and other Benefits
To explore the full benefits of joining Metro North Health visit the Benefits pages including salary packaging, superannuation etc.
Competitive Salary
We offer our medical practitioners a wide range of benefits and a competitive salary.
How much you'll get paid as a medical practitioner depends on your classification and status. Read about current medical officers' wage rates.
Training Opportunities
Metro North Health has a range of opportunities for doctors – from a small country hospital to tertiary and cutting-edge research. It is what makes Metro North Health special. We are the biggest and most diverse hospital and health service in Queensland.
You can get access to training in virtually any speciality you require in Metro North Health Hospitals.
Contact us
Royal Brisbane and Women's Hospital (RBWH)
The Prince Charles Hospital (TPCH)
Redcliffe Hospital
Caboolture Hospital
Surgical Treatment and Rehabilitation Service (STARS)
Community & Oral Health (COH)
Find a job