Research in Metro North
Metro North Hospital and Health Service has a strong culture of research and evidence based health improvement. Metro North staff are recognised for research in such fields as lung cancer and respiratory illness, organ, tissue and bone marrow transplantation, cardiology and cardiac surgery, burns, trauma and intensive care, allied health, nursing, neurology, maternal medicine, neonatology, mental health, orthopaedics, and more.
Metro North hosts five NHMRC-funded Centres for Research Excellence and is a partner in two. Our research partners include QIMR Berghofer, University of Queensland, Queensland University of Technology, Griffith University, ACU, and the Brisbane Diamantina Health Partnership. Our researchers publish an average of 1300 journal articles each year across a range of publications and fields of research.
The Metro North Research Strategy 2017-2022
The Metro North Research Strategy 2017-2022 aims to encourage collaboration and excellence across the themes of diagnostics, therapeutics and health services. These themes give us the opportunity to highlight our existing areas of excellence, to strive for better patient outcomes in others, to promote occasions for collaboration, and to drive our push for sustainable research funding and knowledge translation to directly improve our patient outcomes.
Metro North Research Strategy Refresh
The inaugural Metro North Research Strategy set our intent to deliver exceptional health outcomes through globally recognised discovery and translation through the enablers – patients, people, systems, infrastructure, partners. Through these enablers we aim to build a resilient research culture driven by patient-centred research, supported and developed by highly skilled and engaged researchers, underpinned by systems that are easily navigated which capture metrics to demonstrate our research impact, leverages the advanced infrastructure and services available to us, and builds strong research partnerships.
As we come to close of the Metro North Research Strategy 2017-2022 we have an opportunity to set a collective vision for research excellence in Metro North. To do this, we need to understand the needs and priorities of our research community, our Health Service and our patients and consumers. We invite you to participate in the below engagement opportunities – your responses and participation will help us to articulate a vision for Metro North Research and contribute to our refreshed Metro North Research Strategy.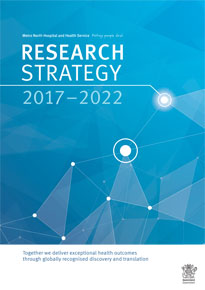 Document in full
Document in parts
Related document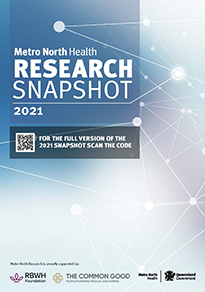 Research Snapshot 2021
Throughout 2021, our researchers have continued to seek answers to complex questions, always with the aim of improving health outcomes.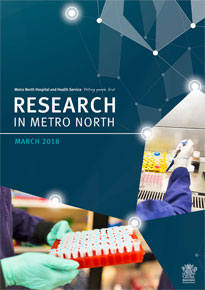 Research in Metro North – Capability statement
Who are our researchers?
What areas are we working in?
How many clinical research projects?
Who do we partner with?